With Halloween just around the corner, I am thinking a lot about candy. Aren't you? If adults went trick-or-treating, this is what we would want to find on the other side of the door. These custom chocolate bars just makes me drool. You could spend an afternoon creating all sorts of chocolate wonderfulness.
Here are some of my favs:
Dark, Spicy, and Salty
Dark chocolate
Jalapenos
Fleur de Sel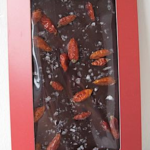 Chocolate and Pretzel Heaven
White Chocolate
Milk Chocolate
Pretzels
Blueberries
Chocolate coated Rice Krispies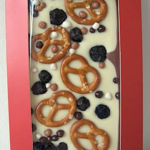 Kid in a Candy Store Bar
Milk Chocolate
Strawberry
Roasted Almonds
Gummi Bears
Colorful Chocolate Dragées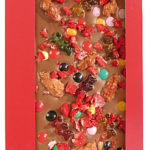 What's your favorite combination?