The leaves are changing into beautiful shades of red and orange. The Halloween costume has been selected after much deliberation by our little peanut. Thoughts of Thanksgiving are starting to swirl around in my mind. It is time to start cooking some Fall flavors people!
So today it is Butternut Squash Couscous – a delicious butternut squash stew with wonderful smells of cinnamon and nutmeg mixed with raisins and served over couscous. Simple. Healthy. Tasty.
First, we need to toast some sliced almonds on medium-low heat which we will use for some garnish when we are all done. Keep an eye on them while you prepare the meal and give 'em a toss every so often.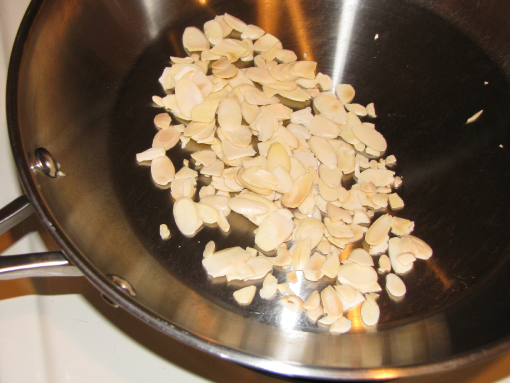 Next we have to dice up two yellow onions. If you have a small food processor, rough chop them and throw them in – much faster than chopping by hand.
Heat up some olive oil in a large pot and add the onions. Cook until they are translucent.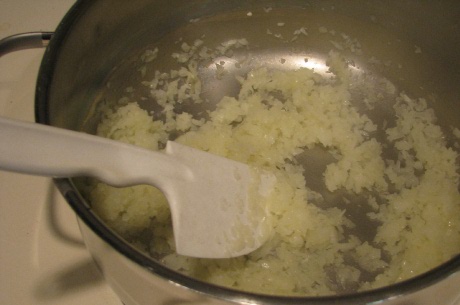 Peel and dice up one butternut squash – or if you are pressed for time the supermarket often has it prepped for you. Love that orange color!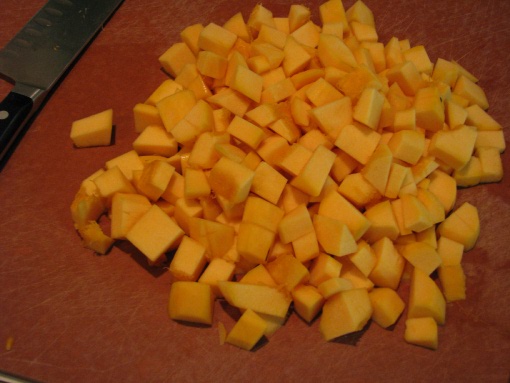 Once the onions are ready, we will add some cinnamon, nutmeg, garlic, a little cayenne pepper for some heat and freshly ground pepper and a bit of salt and stir for about a minute to combine.
In go the butternut squash, diced tomatoes, raisins, and some vegetable broth. Bring it all to a simmer and then add in the chickpeas.
Looking and smelling good.
Now it all needs to simmer for about 10 minutes with the lid on and another 10 minutes with the lid off. In the meantime, we can make up a box of whole wheat couscous and chop up some parsley.
Here's what it looks like after about 20 minutes of cooking with a little parsley thrown in.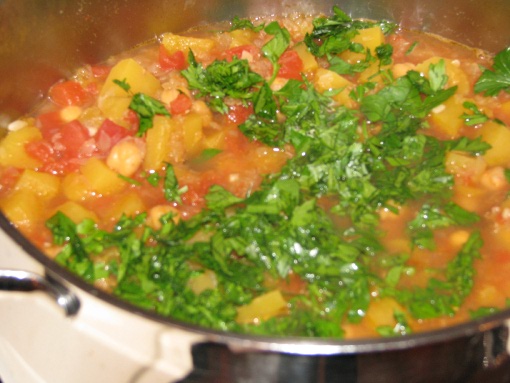 Time to plate it all up and enjoy.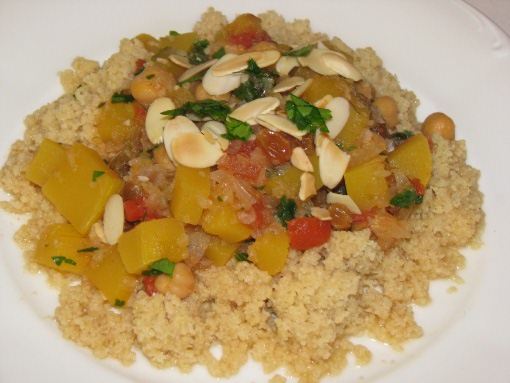 Butternut Squash Couscous
Recipe courtesy of Relish!
Prep and cook time: 35 minutes
Ingredients:
¼ cup sliced almonds
2 tablespoons olive oil
2 yellow onions, chopped
2 teaspoons garlic, minced
pinch of cayenne
1/8 teaspoon nutmeg
1/8 teaspoon cinnamon
1 can diced tomatoes, with their juices
1 butternut squash, peeled, seeded and cut into ¾ inch dice
¼ cup raisins
3 cups vegetable broth
1 can chickpeas, rinsed and drained
¾ cup Italian parsley, chopped
1 box of whole wheat couscous
Give this perfect Autumn dish a try and let me know what you think below…