One of my very favorite holidays is rapidly approaching. I just love Thanksgiving. There is something about getting the family together on a brisk autumn day to share in a delicious meal without the worries of exchanging gifts but yet taking the time to remember what we are truly thankful for that I really look forward to each and every year. Each holiday that I am hosting, I make sure to incorporate at least one or two activities that the kids will enjoy with the hopes that they too will look back at their Thanksgiving memories with the fondness that I do.
Here are a few ideas for making Thanksgiving a wonderful one for your children or grandchildren this year:
1. Thanksgiving Stories
For the younger set, it really is nice to take a few minutes and gather the family together for a Thanksgiving story to teach them the history of the holiday and why it is important to stop and take time to reflect on your blessings.  A few of my favorites are: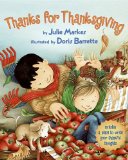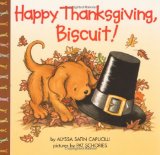 …If You Sailed the Mayflower in 1620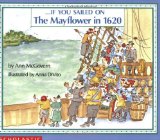 2. Outdoor Activities
If you are lucky to have a sunny, beautiful day get the family outside after a big meal. A scavenger hunt around the neighborhood looking for things like people playing football, acorns, Halloween decorations that have not yet been taken down, smoke coming from a chimney, and out of state license plates can be a great way to burn off a few mashed potatoes and make room for dessert. A nature walk can also be a good activity. Collect some beautiful colored leaves, branches, and berries and use them for a craft project. One year we used our nature walk treasures to spell out a Thanksgiving banner for our dining room.
3. Crafts
Keep those little hands busy while dinner is being prepared with a Thanksgiving craft such as Hand Print Turkeys. If you are creating a separate kids table, cover it with butcher paper and make a centerpiece of crayons and markers in a pretty colored metal bucket. While the adults are enjoying their meal, the kids can be literally coloring all over the table.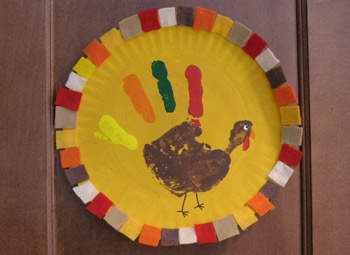 4. Thanksgiving Mad Libs
Who didn't love Mad Libs as a kid, right? Get the kids and adults to come up with some crazy words for a Thanksgiving Mad Lib like this one. All they need is a few words related to body parts or functions and they will be rolling in the aisles.
5. Giving Thanks Game
I always make sure that we spent some time during the holiday reflecting on what we are really thankful for. The Giving Thanks game from party expert Gail Leino, is a fun activity that allows you to do just that but with a twist. While seated around the table, have one person start off a sentence by saying something that he or she is thankful for but make it something unexpected such as "I am thankful for hiccups because…". The next person to their right then needs to finish the sentence and start a new sentence.  The idea is to make it as crazy and unusual as possible so that the person to finish the sentence really needs to get creative. Try to stump the person next to you.
So, on that note I end this post with a sentence for you to complete….
"I am thankful for cold feet because…"