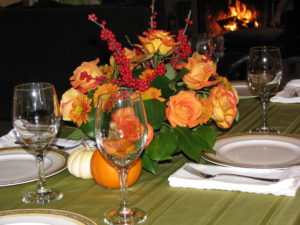 EVENT:
Thanksgiving
ATTENDEES:
11 Adults, 3 kids
MENU:
Fruit Compote with cheese and crackers
Roast Turkey
Gravy (with a little cognac, white wine and cream!)
Sourdough Stuffing with Sausage, Apples and Cranberries
Corn Casserole
Brussels Sprout Hash with Caramelized Shallots
Whipped Sweet Potatoes with Brown Sugar-Pecan Topping
Fresh Cranberry Relish
Pumpkin Tiramisu
Coconut Custard Pie
Fruit Salad
Cookies
Wish we had pictures to show! We were all so hungry and the food looked so good, we just dove in and forgot all about the camera! This year we used a kosher turkey and the result was fantastic. Juicy, moist turkey. My personal favorite dish? The sweet potatoes were amazing. I particularly liked the crunchy topping.
What am I thankful for? A wonderful husband who cleaned up the whole kitchen!
Hope your Thanksgiving was as wonderful as ours!