Thanksgiving just isn't Thanksgiving without pumpkin. I love anything made with pumpkin. Pumpkin pie (of course), pumpkin flan, pumpkin muffins, pumpkin pancakes, pumpkin soup. So this year, I thought instead of going the traditional route for dessert I would take an Italian classic dessert and "Thanksgiving-ize" it. So this season we will be having Pumpkin Tiramisu. Tiramisu is traditionally made by soaking spongy cookies called Lady Fingers in espresso and rum and then layering them with mascarpone (Italian cream cheese that is rich and delicious), sugar and egg yolks. The spongy cookies absorb the wonderful flavors of coffee, rum, and sweet creamy cheese and result in a soft, light, decadent mouthful.
The traditional recipe looks like this: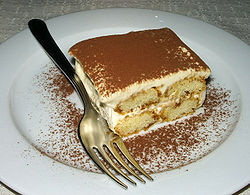 To adapt the traditional Tiramisu recipe, we will add canned pumpkin and pumpkin spices and omit the espresso flavor.
1. First we need to line a springform pan with a layer of the Lady finger cookies pressing them close together and filling in the smaller spaces with halved cookies.
2. Then we give them a little love with about 2 tablespoons of rum drizzled over the top.
3. Next we will create the amazing, light creamy layer by whipping together about 1 1/2 cups of chilled whipping cream and 3/4 cup of sugar until peaks are formed. Then we will add a 15 oz. can of pure pumpkin (no additional flavors added), 1/4 teaspoon of nutmeg, 1/4 teaspoon of cinnamon, 1/4 teaspoon of cloves and 8 oz. of mascarpone cheese and blend them all together.
4. Half of the creamy layer gets spread over the Lady Fingers.
5. Another layer of Lady Fingers goes down with another drizzle of 2 tablespoons of rum.
6. Then we add the rest of the creamy later over the top.
7. To allow the Lady Fingers to absorb all the wonderful flavors we need to wrap up the pan tightly with plastic wrap and chill it in the refrigerator over night.
8. Once it has been all chilled, we carefully go around the edge of the pan with a spatula to loosen the dessert and then gently remove the springform pan. To add visual interest and a nice crunch, top the tiramisu with some crushed amaretti cookies or some crushed ginger snap cookies and enjoy.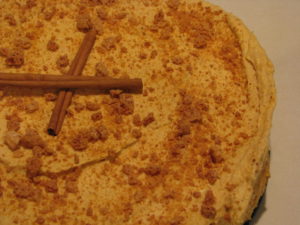 A quick, easy recipe that results in a truly wonderful Thanksgiving dessert. The addition of the crumbled amaretti cookies or ginger snaps gives it a wonderful crunchy texture which balances out the soft, creaminess of the dessert.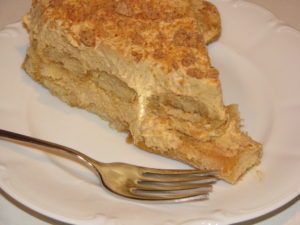 Do you have any twists on the traditional Tiramisu recipe or a Thanksgiving favorite? Please share in the comments below!