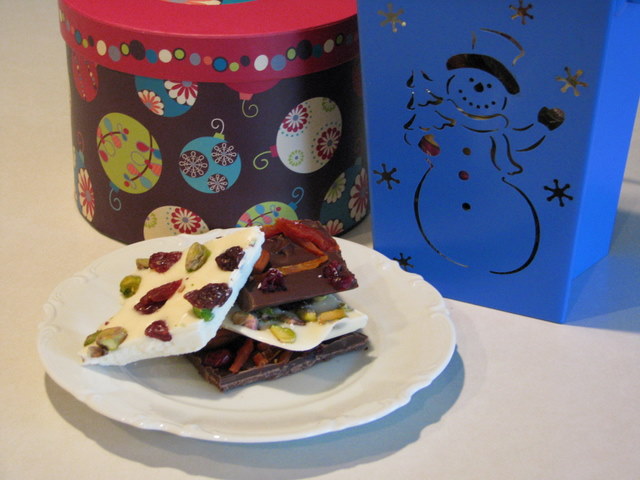 Well, 2010 certainly has been a crazy and interesting year for me. Loads of stress. Long commutes. Loss of job. Leap of faith. Exciting new direction. I am looking forward to what the next year has in store for me.
I hope that this past year has been a rewarding one for you and that 2011 brings you and yours happiness and peace of mind. Thank you so much for reading my posts, "liking" my Facebook page, subscribing to my newsletter or trying my services. It has brought me a great deal of  joy to know that others are interested in following along with me on this journey. I hope you will continue down this path with me in 2011 and that you will share your recipes, questions and thoughts with me.
Happy Holidays!
Easy Breezy Holiday Chocolate Bark
Need a last minute holiday gift? Try chocolate bark. It is a great thing to make with the kids and can be made with any toppings your heart desires. This week we will be making some more with our kids using M&Ms, Amaretti cookies, and pretzels.
Ingredients
12 oz bittersweet chocolate morsels
12 oz milk chocolate morsels
OR
24 oz white chocolate morsels
Topping suggestions:
Dried cranberries, dried apricots, roasted almonds
Dried cherries, salted pistachios
Instructions
[1] Heat water to simmering in a large pasta pot.
[2] Place chocolate morsels in a glass or metal mixing bowl and put on top of pot, making sure that the water does not touch the bottom of the bowl.
[3] Stir chocolate until it is completely melted and smooth.
[4] Spread melted chocolate onto a 9×12 baking sheet lined with parchment paper.
[5] Sprinkle toppings over the chocolate. The more the better!
[6] Let cool on the counter for 2 hours or place in the refrigerator for about 30 minutes.
[7] Cut chocolate bark into pieces and ENJOY!