They are crispy, salty, and delicious. That's right. They're potato latkes – the traditional Hanukkah treat. Since yesterday marked the first night of the Festival of Lights, today's recipe post is all about latkes. Whether you celebrate Hanukkah or not, these potato pancakes are worth making.
Here is what we will need to get started:
(Makes about 8 latkes in 8 easy steps)
2 large Russet potatoes, washed and peeled
2 cups of yellow onions (about 4 small onions)
1 egg
1 tbs flour
1 tsp baking soda
1 tsp kosher salt
1/4 tsp ground pepper
Canola oil for frying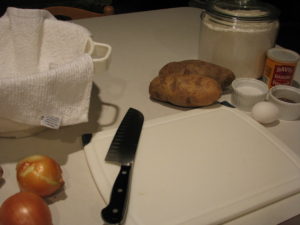 At medium-high, heat a good layer of canola oil in a large frying pan
[1] First, we need to get out the old food processor and chop up the onions. Once chopped, leave about 1/4 of the onions in the food processor and put the rest in a big bowl.
[2] To the bowl, we add the egg, salt and pepper and mix well.
[3] To the food processor, we add the potatoes which have been cut in small pieces.If you are lucky enough to have a sous chef, let them do the peeling!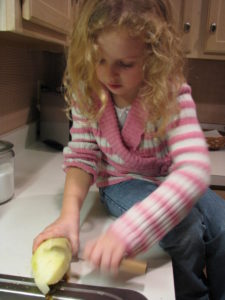 [4] Pulse the mixture until the potatoes are finely chopped, almost pureed.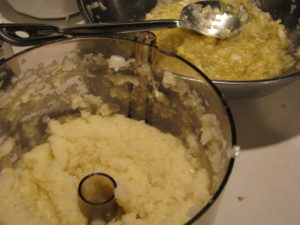 [5] Transfer the potato mixture to a colander lined with a kitchen towel. While holding over the sink, give the towel a really big squeeze until all the liquid is drained from the potatoes. If they are too watery, they will not stick together well.
[6] Transfer the potato mixture to the big bowl with the onions. Add the flour and baking powder and mix well.
[7] Once the pan is nice and hot, drop about 1/4 cup of the mixture into the pan and carefully flatten a bit to make one potato latke. Add a few more to the pan. Flip over when the edges start to get good and brown. You may need to use two spatulas to carefully turn them without breaking them.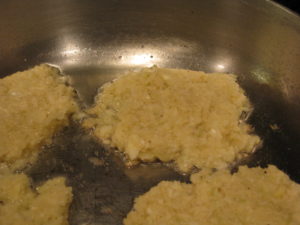 [8] Once both sides are done, transfer them to a plate lined with paper towels to drain.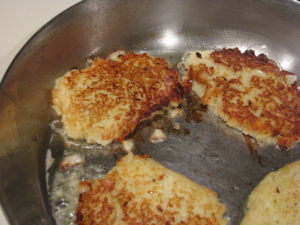 To "health" them up a bit, serve them with a side of mixed greens, slices of smoked salmon, capers, and avocados and a citrus vinaigrette (1 tbs orange juice, 1 tbs honey, 2 tbs canola oil, salt and pepper to taste). Mmmm!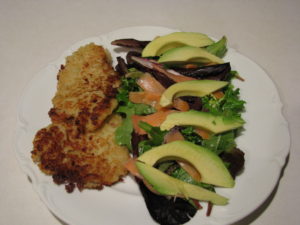 Happy Hanukkah!