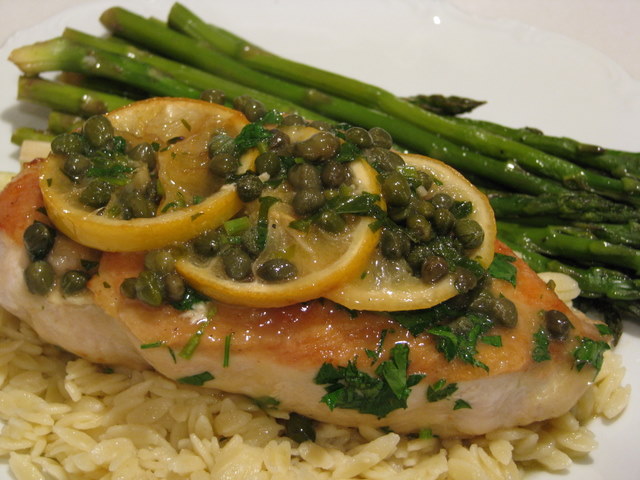 One of the keys to sticking with a healthy diet is to not sacrifice flavor. Dry toast and egg whites will not cut it for very long before you are running through the grocery store in hot pursuit of a bag of Oreos. One of the best ways to produce wonderful flavor without a lot of calories or fat is through roasting – cooking the food in a dry oven with the help of a little oil. Using this method creates an intense, citrus sauce for sauteed chicken and a sweet flavorful side of asparagus –  for under 400 calories.
First we need to get the lemons roasting for the sauce. Place lemon slices from two lemons on a baking sheet lined with parchment paper (for easy cleanup) and sprinkle with a little extra virgin olive oil and some salt and pepper. Place it in a preheated oven set at 375 degrees and cook for about 20 minutes until the lemons soften and begin to brown a bit around the edges.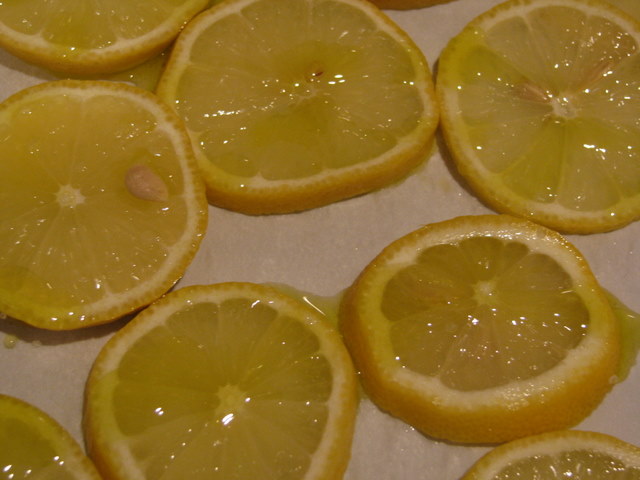 We also will use the oven to roast some asparagus at the same time. If you have always eaten boiled asparagus, you must try them cooked this way. There is no comparison. Same treatment for the asparagus. Place them in a baking dish and sprinkle with a little extra virgin olive oil and salt and pepper.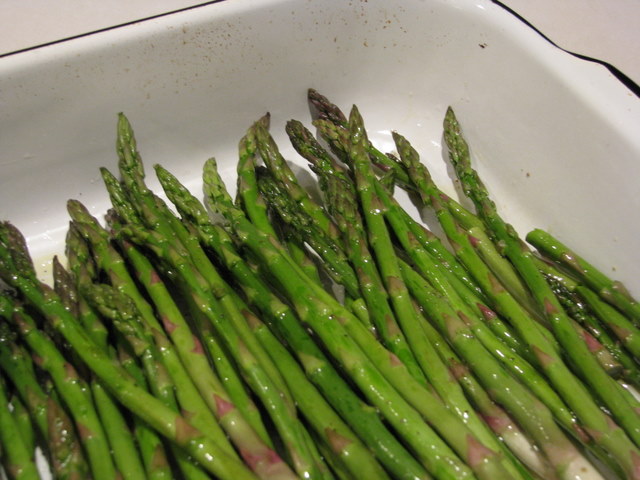 OK, now on to the chicken. First we need to prepare a plate of flour, salt and pepper to dredge the chicken. We also need to get the saute pan hot. Set it to medium heat and add about 1 tablespoon of extra olive oil to the pan.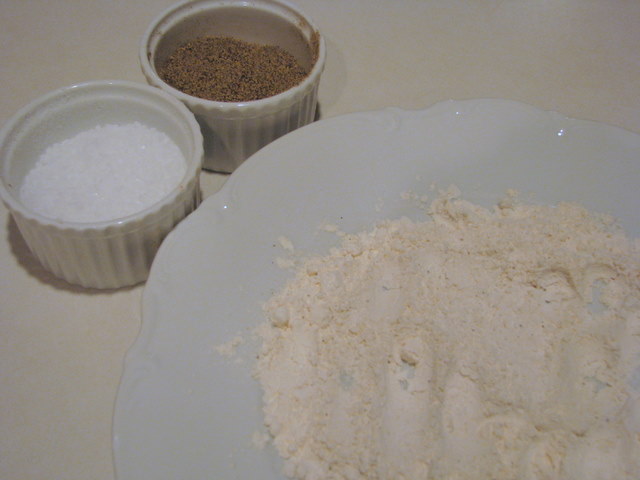 Once the pan is nice and hot (the chicken should sizzle a bit when added), it is time to dredge the chicken and place it in the pan. Make sure to shake off the excess flour. It should just be lightly coated. The flour will help us to thicken our sauce in a bit.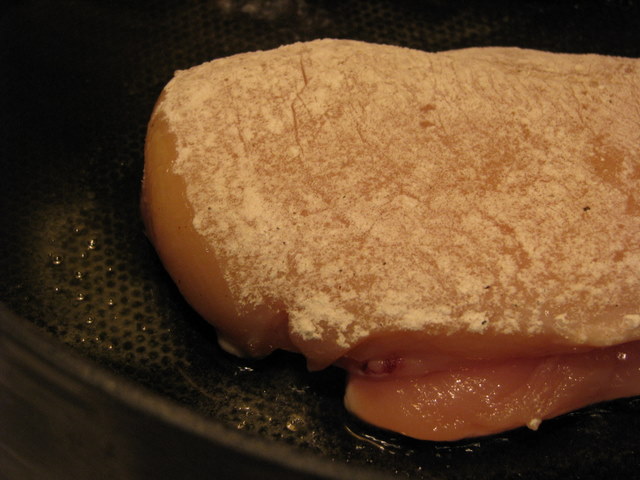 We will need to cook the chicken for about 8 minutes per side (depending on the thickness of the chicken). When it looks nice and browned on one side, give it a flip.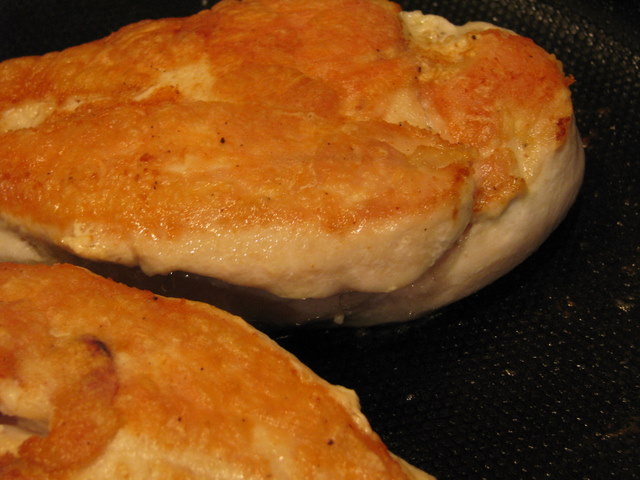 After the chicken has been browned on the other side, add some capers and chicken broth and bring to a boil. Cook over high heat until the liquid reduces by about two thirds – about 5 minutes.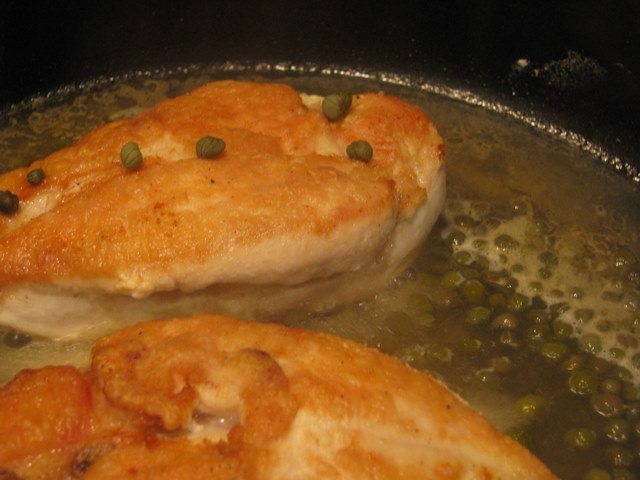 Next we add the roasted lemons, some chopped parsley and butter and simmer for another minute or so. Then it is time to plate!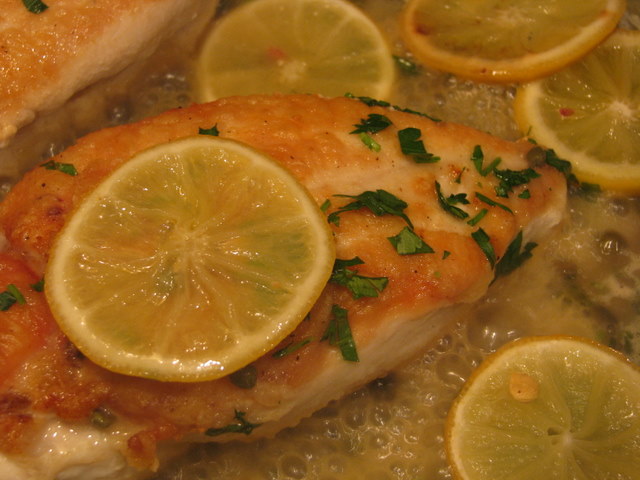 If you want to keep the calories of the dish low, you can always omit the orzo (which adds about another 200 calories) but I just love pasta so it had to be added to my plate!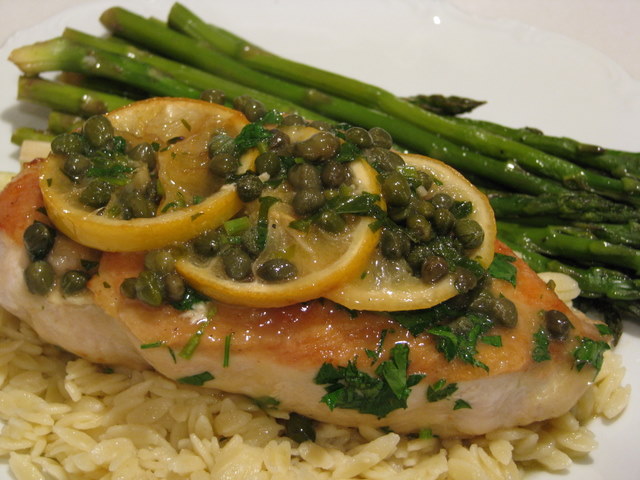 So there you have it. A healthy, flavorful, low calorie dinner in under 30 minutes. Enjoy!
Sauteed Chicken with Roasted Lemon Caper Sauce
Adapted from Relish! recipe
(serves 4)
Prep and cook time: 30 minutes
Ingredients:
2 whole lemons, cut into slices
4 boneless, skinless chicken breasts
3 tablespoons capers, drained
1 cup low salt chicken broth
3 tablespoons butter (no salt added), cut into small pieces
2 tablespoons Italian parsley, chopped
Flour for dredging
Extra virgin olive oil
Salt and pepper
Sides:
1 bunch asparagus
1/2 box orzo