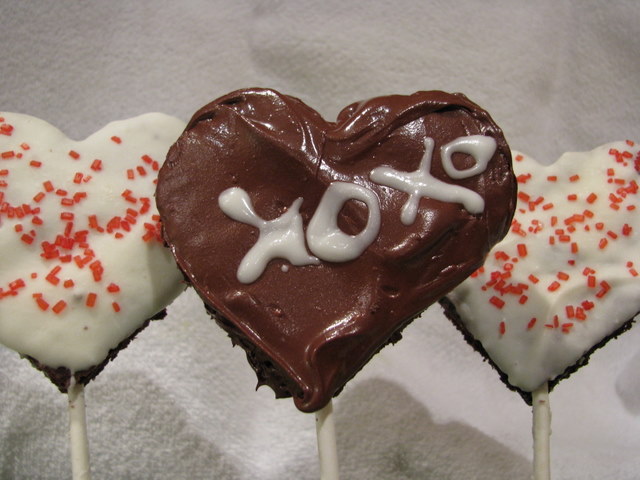 My best wishes for a wonderful Valentine's Day! Here's to good food, good wine and lots of chocolate! 🙂 These brownie pops should do the trick.
Valentine Brownie Pops
(Makes ~ 12 lollipops)
Making these brownie lollipops couldn't be simplier and is a fun activity to do with the kids.
Ingredients:
1 box of brownie mix
2 eggs
1/2 cup canola oil
1/4 cup water
1 package of milk chocolate or white chocolate chips
Icing pens in the colors of your choice
Sprinkles
Heart cookie cutter
[1] Make the brownies according to the instructions on the box. I used the "fudgey" version to help ensure that the brownies stayed on the lollipop sticks.
[2] After the brownies come out of the oven, use the cookie cutter to create about 12 heart shaped brownies.
[3] Place the lollipop sticks into the bottom of the hearts and lay on a piece of waxed paper.
[4] Place a bowl over a pot of simmering water and melt the chocolate chips. Be careful to keep the water at a simmer. If the water is boiling it will not result in a smooth, creamy chocolate.
[5] Dip one side of each heart shaped brownie into the melted chocolate. Use a spatula to help create a smoother look. Place them on the waxed paper to dry.
[6] While the chocolate is still warm, add the sprinkles. Once the chocolate has dried, use the icing pens to draw some hearts or write a little love note.
Enjoy!