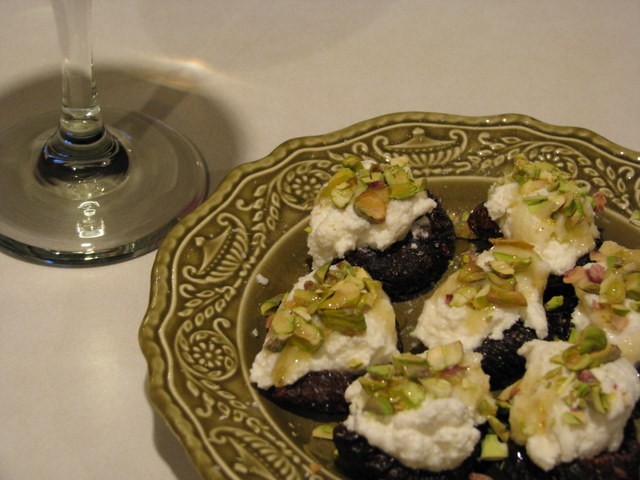 Valentine's Day is weeks away. If you are wondering what to serve your honey this year, the next three posts should help you to set the perfect dinner for two. Today we focus on the first course – Dried Figs with Ricotta, Pistachios and Honey.
The fig has a rich history and has long been thought of as a symbol of fertility and abundance. Sweet dried figs paired with smooth, mild ricotta cheese is the perfect little hors d' oeuvre to pair with a glass of wine on Valentines' Day. Not only is it very easy to prepare but it makes a beautiful presentation on the plate and offers a wonderful small bite of sweetness, saltiness, chewiness and crunch.
Dried Figs with Ricotta, Pistachios and Honey
Adapted from Healthy Appetite with Ellie Krieger
Makes 2 servings
1/4 cup shelled, unsalted pistachios
8 dried mission figs
1/4 cup part-skim ricotta cheese
1 tablespoon honey
Salt
[1] Inspect dried figs for hard stem. Cut off if necessary.
[2] Arrange figs on a beautiful dish or platter leaving enough "white" space in between for a nice presentation.
[3] Carefully add about 1 tablespoon of ricotta cheese to each fig.
[4] Sprinkle a bit of salt over all the figs.
[5] Chop the pistachios nuts into very small pieces and sprinkle over the figs.
[6] Drizzle honey over the figs, pour a glass of wine for you and your sweetie and enjoy!