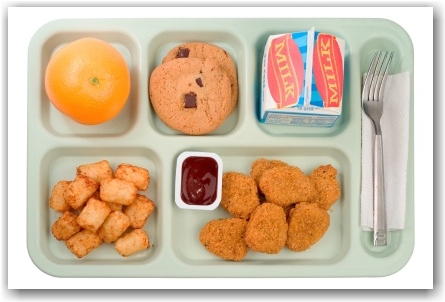 Do you send your child to school each morning with money for a school lunch? You could be providing your child with a meal that is making them sick and not giving them the nutrients they need to grow and learn. The most common school lunches? Frozen chicken nuggets, frozen pizza and frozen tater tots. If you want the best for your kids, watch this talk by Ann Cooper, the most passionate "lunch lady" around.
Scary, right? Our children deserve better. So what can you do about it? Here are some ways you can make a change today to impact the health and well-being of your kids for years to come.
Get educated. Continue to learn more about healthy eating and make changes at home.
Pack your child's lunch. Set aside one night a week to make all 5 lunches to prevent the early morning madness. Check this Friday's Fabulous Finds for healthy lunch ideas.
Contact your school and ask for a tour of the cafeteria and vending machines. Not happy with what you see? Complain.
Join the PTA and make sure nutrition is a topic on the agenda.
Join Jamie Oliver's Food Revolution and see how you can get involved.
Check out the tools and resources available on The Lunch Box.
Ask your school to partner with a local chef through the Chefs Move to Schools program.