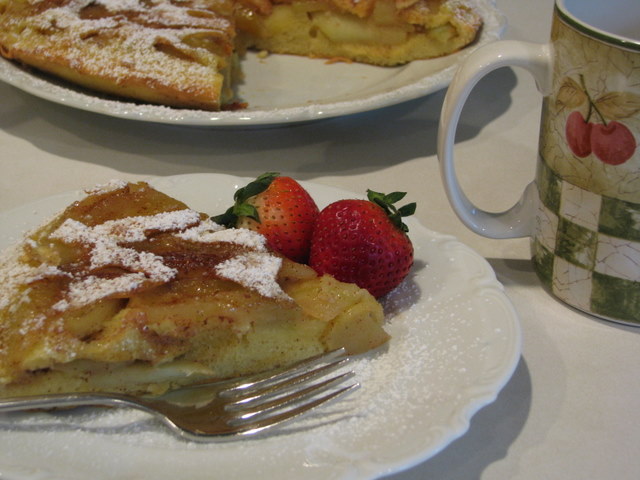 In honor of National School Breakfast Week, this week is completely dedicated to my favorite meal of the day and today's recipe is one of my favorite breakfasts. Many of us are quite familiar with the typical pancake breakfast served at the neighborhood diner – thin yet fluffy pancakes piled high on the plate.  But the German Apple Pancake takes pancakes to a whole other level. This rustic, simple recipe produces one puffy, cinammon-y pancake coupled with sauteed apples. Dee-licious!
German Apple Pancake
Adapted from "Breakfast" by Williams-Sonoma
(serves 6)
Ingredients
5 large eggs
2 teaspoons vanilla extract
1/2 cup sugar (plus 1 tablespoon to mix with apples)
1/3 cup all-purpose flour
1 teaspoon baking powder
1/8 teaspoon fine sea salt
1 1/2 tablespoons unsalted butter
2 Granny Smith apples, peeled, sliced in 1/2 inch slices
1 teaspoon cinnamon
Confectioner's sugar for presentation
Directions
[1]  Using either a blender or a food processor, blend the eggs, vanilla and 1/2 cup of sugar together until combined.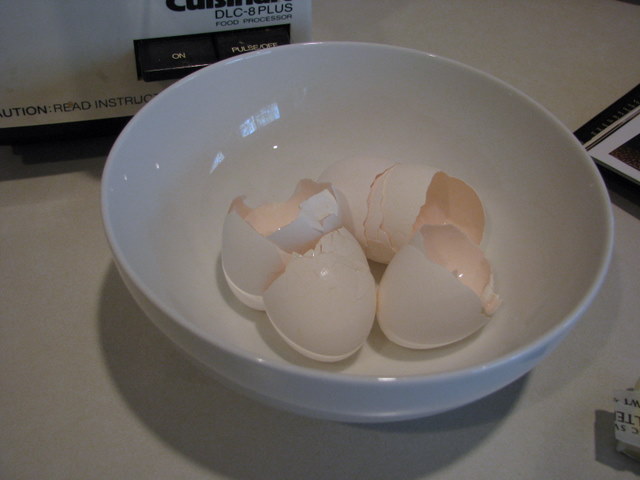 [2]  Add flour, baking powder and salt and mix another few seconds to incorporate.
[3]  Preheat oven to 375 degrees.
[4]  Peel and slice apples and then heat a saute pan over medium heat. (Note: Make sure you have a plate that is slightly wider than your pan so you can flip the pancake out when done.) Add butter and once melted and foaming, add the apples.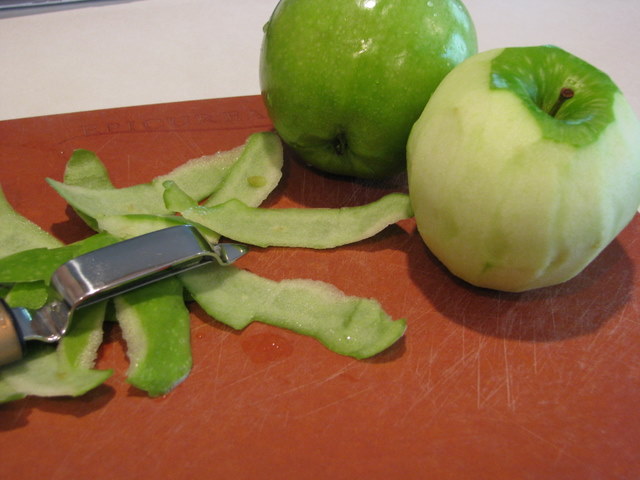 [5]  Cook apples, stirring occasionally for about 5 minutes or until softened.
[6]  Add cinammon and 1 tablespoon of sugar and cook for another minute. The apples will take on a wonderful glazed appearance and the smell is divine.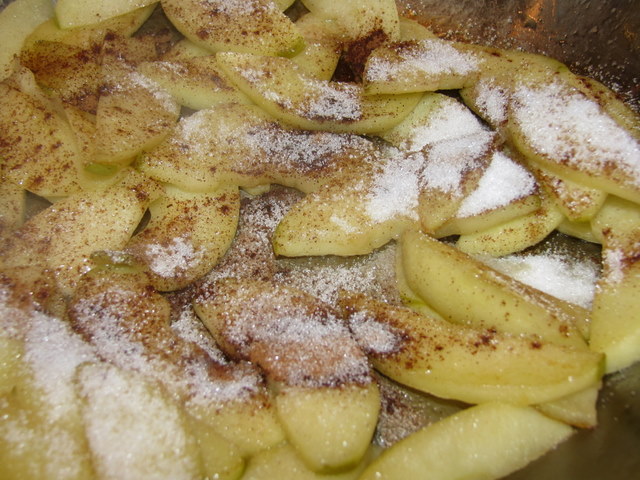 [7]  Make sure the apples are lining the bottom of the pan and then pour the pancake batter over the apples. Turn the heat down to medium-low and cook on the stove for another 8 minutes.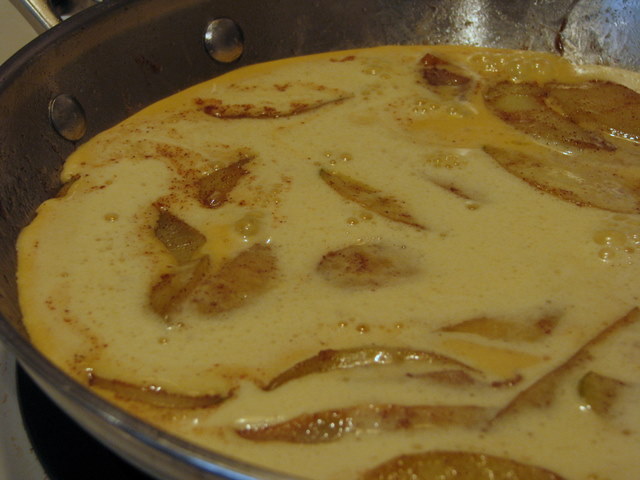 [8]  Place the saute pan in the preheated oven and cook for 10 more minutes.
[9]  Remove from the oven. The pancake should be puffy and golden brown.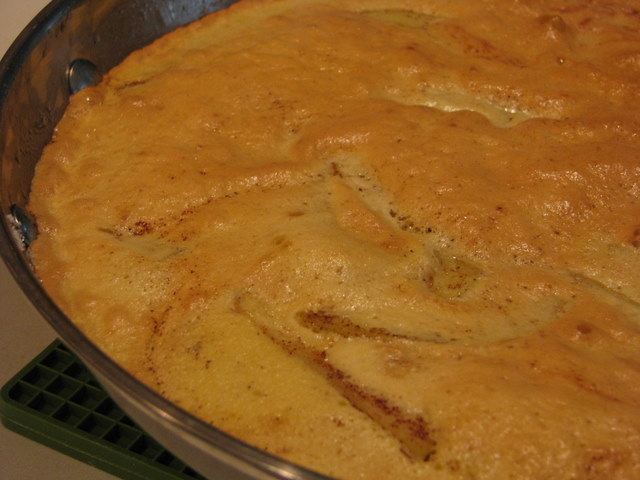 [10]  Place a plate over the top of the saute pan and carefully turn the pan over to flip out the pancake.
[11]  Sprinkle with confectioner's sugar and serve with fresh fruit.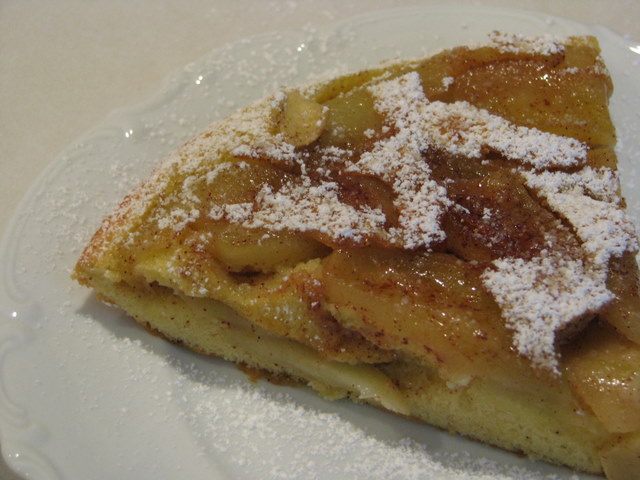 While each slice is about 230 calories, no maple syrup (which is 200 calories per 1/4 cup!) is needed.
Pour yourself a cup of coffee and take a few minutes to enjoy breakfast! Your body will thank you!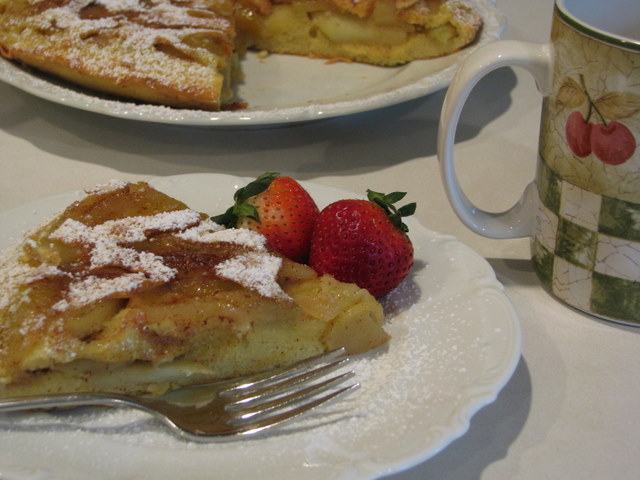 Enjoy!