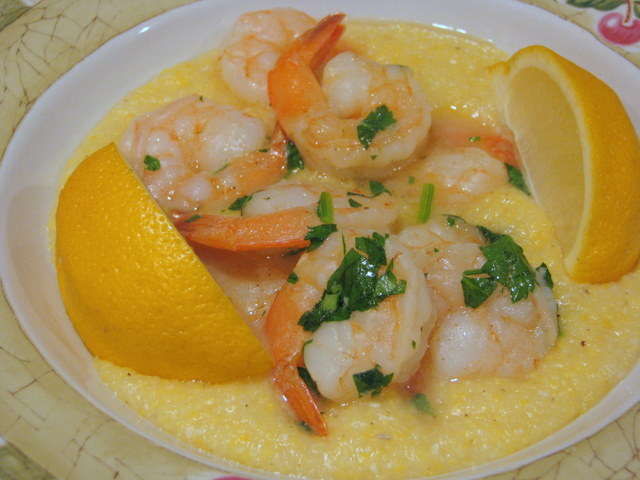 This week I seem to be fighting off a cold and my energy has been quite low. I was so glad I had the ingredients to make this recipe last night. Not only are grits serious comfort food but this flavorful dish took under 20 minutes to prepare. Garlic, lemon and Parmesan-Reggiano cheese. Simple ingredients that yield an amazing dish.  Love that!
Lemon-Garlic Shrimp and Grits
Adapted from  Food Network Magazine
(serves 4)
Ingredients
3/4 cup instant grits
1 teaspoon kosher salt
1/2 teaspoon pepper
1/2 cup of Parmesan-Reggiano cheese, grated
3 tablespoons unsalted butter
1 1/2 pounds shrimp, peeled and deveined
2 cloves of garlic, minced
Pinch of cayenne pepper
Juice of 1 lemon, plus additional wedges for serving
2 tablespoons chopped Italian parsley
Directions
[1]  Boil 3 cups of water in a medium saucepan. Slowly whisk in grits, salt, and pepper. Reduce heat to medium low and cook, stirring occassionally, until thickened, about 5 minutes.
[2] Stir in Parmesan-Reggiano cheese and 1 tablespoon of butter. Keep on low to keep warm while making the shrimp.
[3] Season shrimp with salt and pepper.
[4] Melt 2 tablespoons of butter in a large skillet over medium-high heat.
[5] Add shrimp, garlic, and cayenne and cook until shrimp are pink, about 3 minutes.
[6] Add 2 tablespoons of water to the skillet along with lemon juice and parlsey. Stir to coat.
[7] Plate grits in a shallow bowl and top with shrimp and the lemon-garlic sauce. Serve with lemon wedges.
Enjoy!