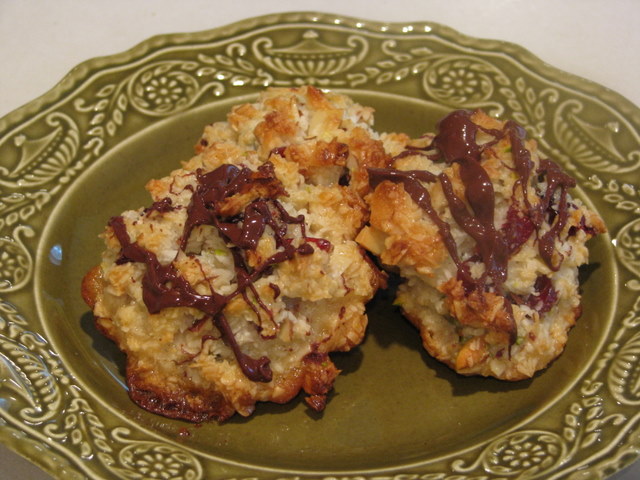 When I was growing up, delicious Passover dessert was an oxymoron. We either had these awful fruit jellies or some dried out coconut macaroons. It was always a big disappointment. Really, what can one do when flour is not allowed? Well, fret no more. Two delicious and healthy (yup I said healthy) Passover desserts are here to save the day.
Macaroons with Dried Cranberries, Pistachios and a Chocolate Drizzle
Adapted from Eating Well

Makes approximately 36 cookies
Ingredients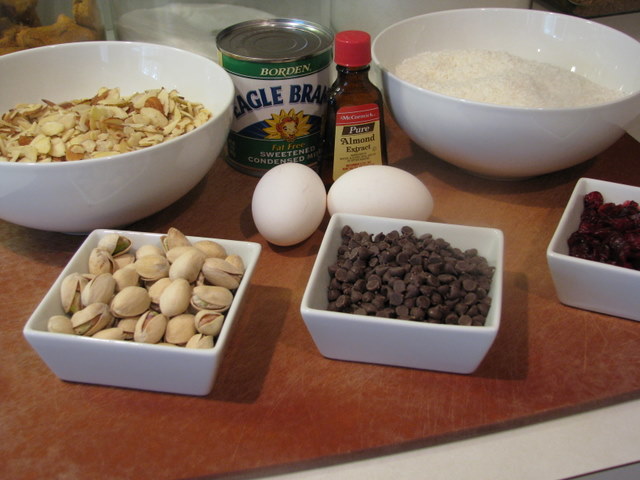 1 14 oz. can non-fat sweetened condensed milk
1 tsp almond extract
2 cups sliced almonds
2 cups unsweetened coconut flakes
1/2 cup dried cranberries
1/2 cup chopped shelled pistachios (salted)
2 large egg whites
1/4 tsp salt
3/4 cup bittersweet or semi-sweet chocolate chips
Preparation
Preheat the oven to 325 degrees. Make sure the racks are in the upper and lower thirds of the oven.
Line 2 large baking sheets with parchment paper.
Whisk condensed milk and almond extract together in a large bowl.
Our quality control inspector was on the scene to make sure we were working according to code.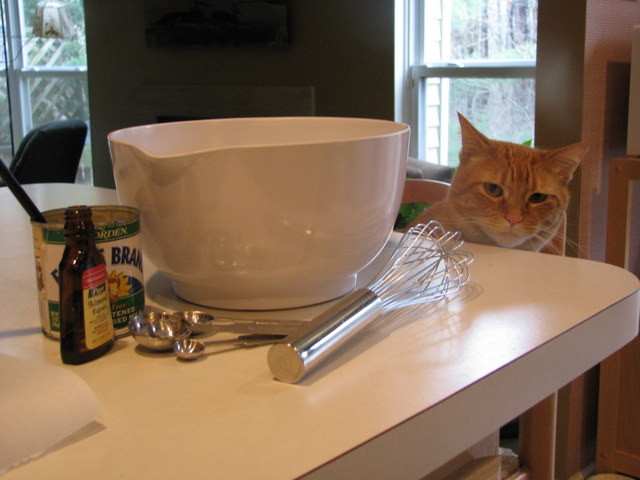 Add almonds to food processor and pulse into small pieces are formed.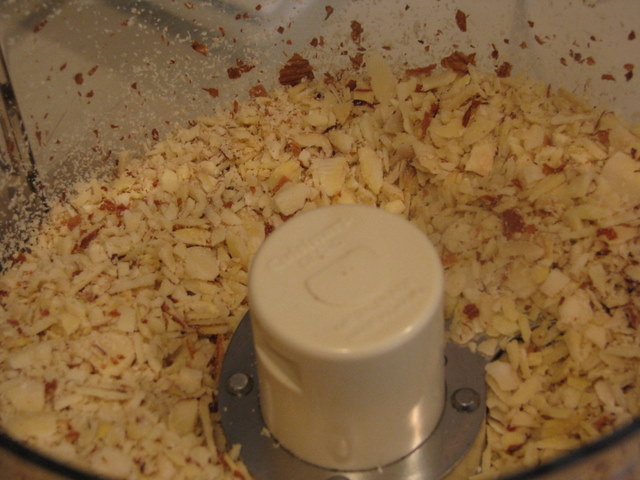 Add almonds, cranberries, pistachios and coconut to the condensed milk mixture and stir.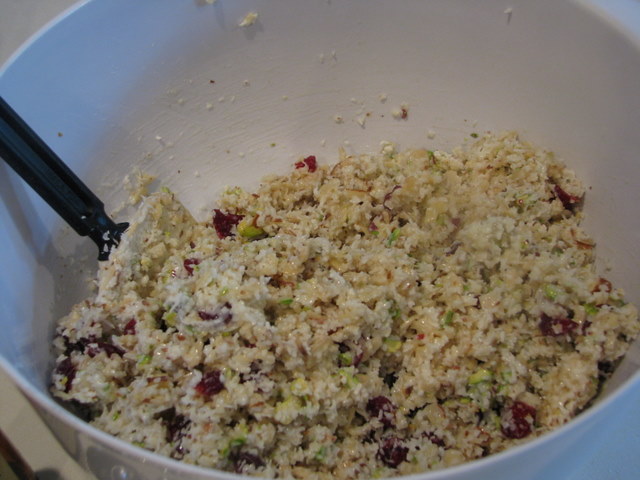 Beat egg whites and salt in a medium bowl with an electric mixer on medium-high speed until soft peaks form, about 1 minute.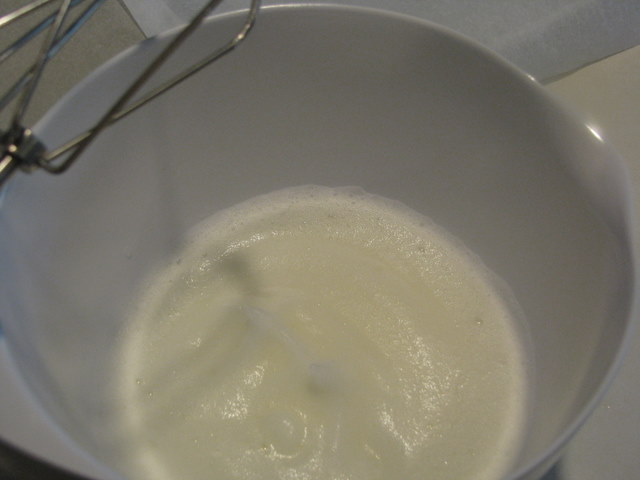 Gently fold half of the egg whites into the coconut mixture. When combined, fold in the other half.
Using a teaspoon, drop the mixture on to the baking sheet and then add another teaspoon of the mixture on top. Place the cookies about 1 inch apart.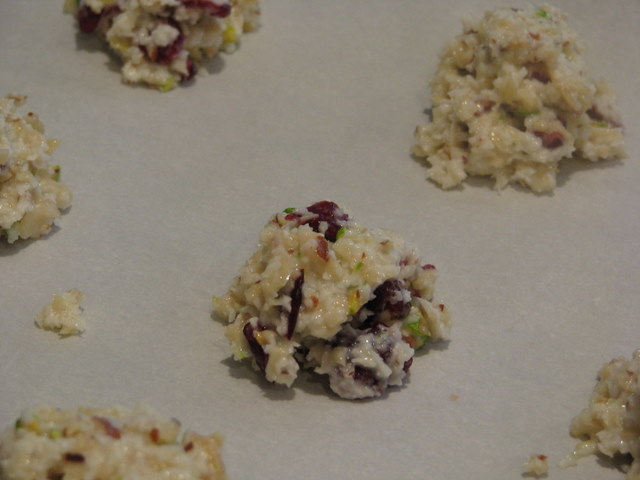 Bake the macaroons for 10 minutes and then rotate the baking sheets, placing the top sheet on the bottom rack and vice verse to ensure they brown evenly.
Bake for another 10 minutes and then remove the macaroons from the oven and place on a wire cooling rack to cool for about 30 minutes.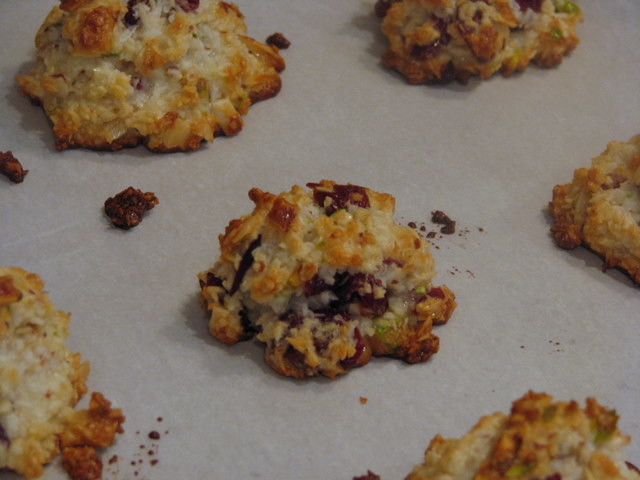 Once the macaroons are cool, melt the chocolate chips in a double-boiler or in the microwave (for 30 seconds, stir, then another 30 seconds).
Drizzle the chocolate over the top of the macaroons and let cool.
The macaroons can be stored at room temperature in sealed container for about 5 days and come in at only 85 calories a cookie!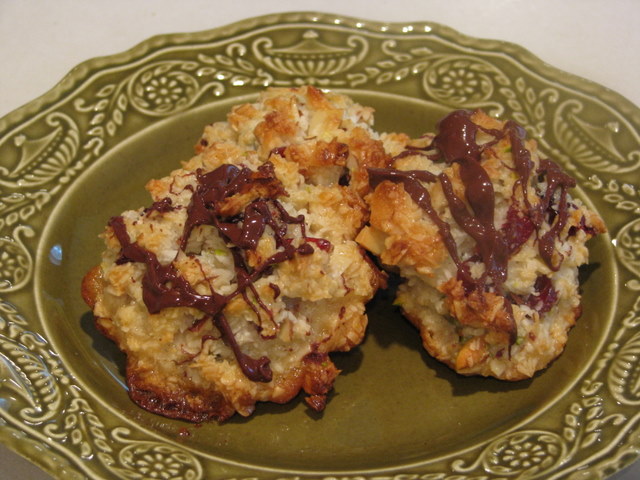 One of my favorite things to eat during Passover is haroset on matzo with really strong horseradish. There are many variations of haroset but it typically contains a mixture of apples, walnuts, cinnamon, and wine. So when I came across this recipe for Haroset cake I was very excited to give it a try. The sauce really makes this recipe in my opinion.
Haroset Cake with Zabaglione Sauce
Adapted from Eating Well
Serves 12
Ingredients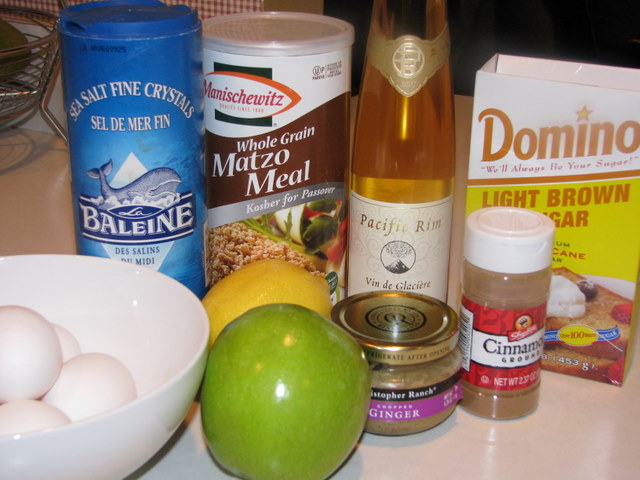 Cake
Whole wheat matzo meal
2/3 cup walnut pieces
1 Granny Smith apple, peeled and diced
2 tsp freshly grated lemon zest (1 lemon)
1 tsp cinnamon
1 tsp minced ginger (you could use fresh but I cheated and used the jar)
1/2 tsp salt
2 tbs white sweet dessert wine (I used a German Riesling)
5 large eggs, at room temperature (important!)
3/4 cup packed light brown sugar
Zabaglione sauce
6 egg yolks (including the two reserved from making the cake)
1/4 cup granulated sugar
2/3 cup white sweet wine
Preparation
Preheat oven to 350 degrees.
Coat a 9-inch springform pan with cooking spray. Place 3 tablespoons of matzo meal in the pan and turn to coat bottom and sides of the pan. Transfer the remaining matzo meal to a bowl with rest of matzo meal and set aside.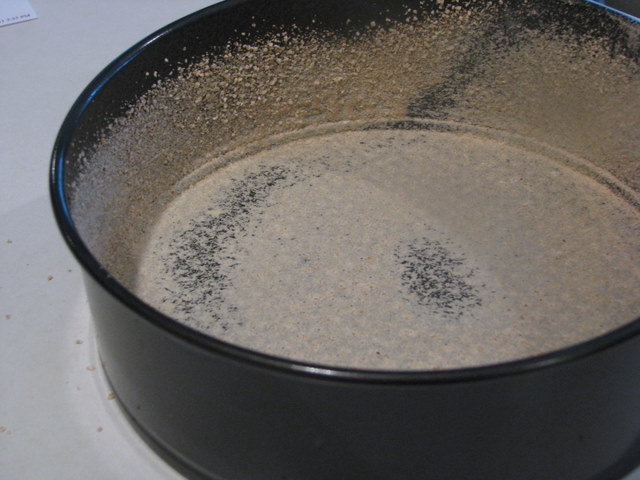 Add walnuts, apple, lemon zest, cinnamon, ginger and salt to food processor and process until finely ground. Add 2 tablespoons of wine to the mixture and process again until a paste forms.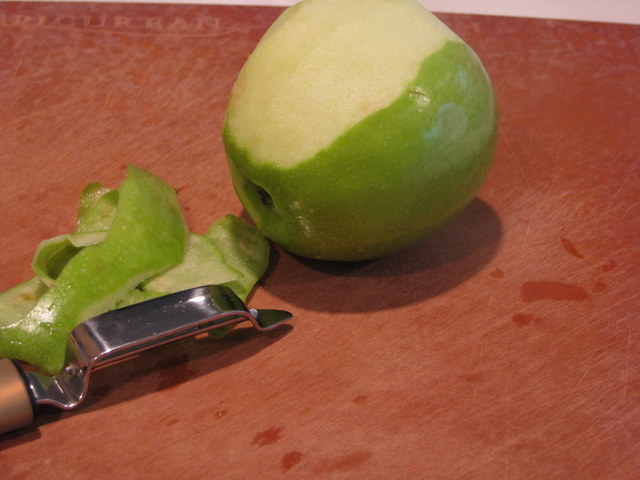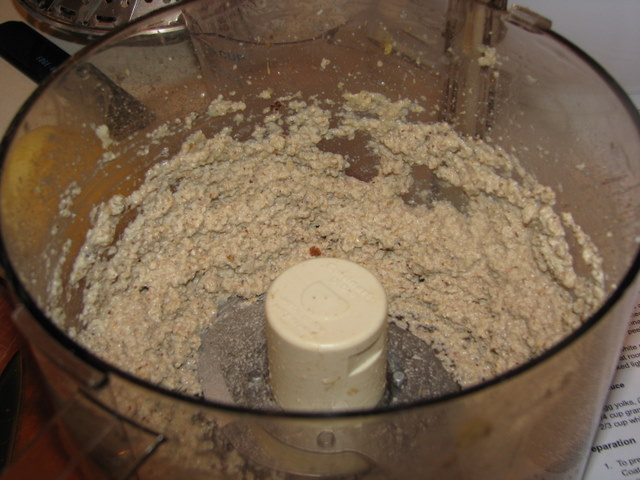 Separate 4 of the eggs and reserve 2 of the yolks for the cake and 2 yolks for the sauce. Beat the 4 egg whites in a medium bowl with an electric mixer on medium-high speed until soft peaks form.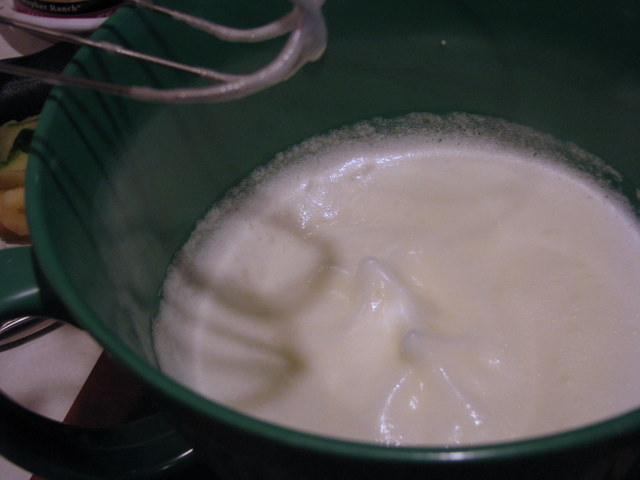 Beat 1 whole egg and 2 egg yolks with brown sugar in another large bowl on medium speed until thick and creamy. Fold the walnut mixture into the egg yolk mixture using a rubber spatula.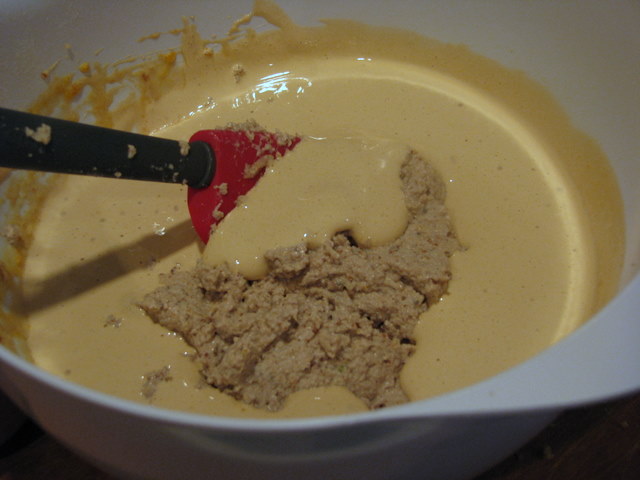 Add the matzo meal until combined.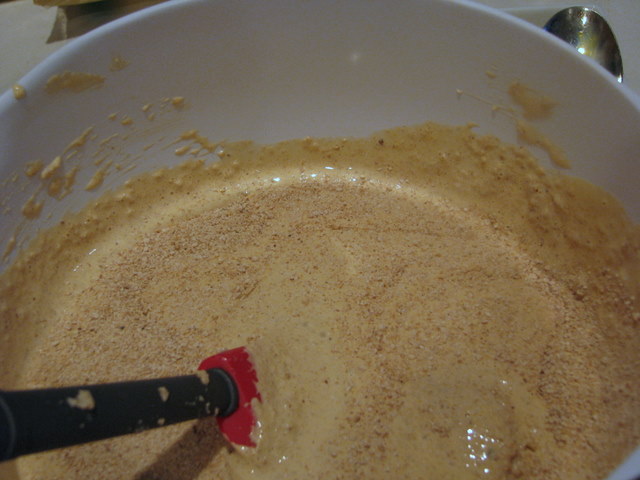 Finally add the egg whites and fold in gently.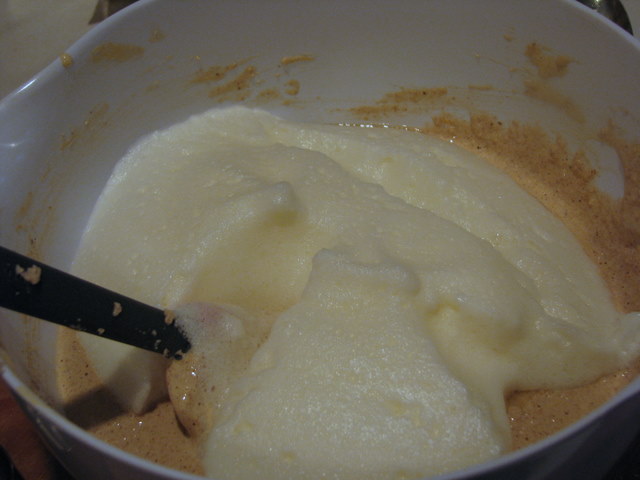 Place the batter into the springform pan. Tap the pan lightly on the counter a few times to even out the batter. This will also form a nice matzo meal edge around the cake.
Bake the can for about 45 minutes. A toothpick when inserted in the middle of the cake should come out clean.
Place on the wire cooling rack and let rest for 2 hours.
To make the sauce, bring an 1 inch of water to boil in a medium sauce pan. Place a metal bowl over the top of the pan and add the egg yolks and sugar. Mix with an electric mixer on medium speed until thick and pale.
Add wine and beat on medium speed (over a low heat) for about 5 minutes until thick. Serve the sauce over the cake and enjoy with a glass of dessert wine. One slice with sauce only 211 calories.