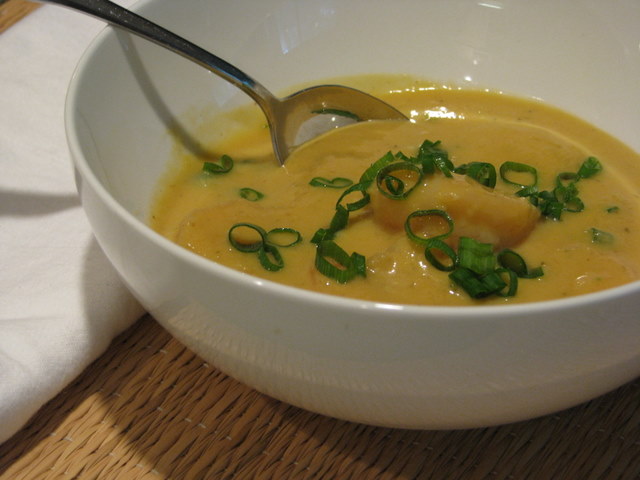 Looking to add a spicy, tropical twist to dinner this week? You've got to try Curried Shrimp and Mango Soup. Delicious, ripe mangoes, sweet coconut milk, spicy Serrano chile and curry result in a creamy, slightly sweet, slightly spicy soup.
Curried Shrimp and Mango Soup
Serves 4
Adapted from Eating Well
Ingredients
1 tablespoon extra-virgin olive oil
1 red onion, diced
2 stalks of celery, sliced
4 cloves of garlic
1/2 Serrano chile, minced
2 tablespoons curry powder
1 teaspoon dried thyme
1 cup of clam juice
1 cup of water
1 14 ounce can unsweetened coconut milk
3 ripe mangoes, diced
1 1/4 pounds raw shrimp, peeled and deveined
3 green onions, thinly sliced
salt to taste
Preparation
Heat olive oil in large soup pot over medium heat. Add celery and onion and cook, stirring often, for about 5 minutes until vegetables are softened.
Add garlic, Serrano chile, curry powder and thyme and stir to incorporate.
Add clam juice, water, coconut milk and mangoes. Bring to a slow boil over medium-high heat and then reduce heat to medium-low and simmer for 5 minutes.
Using an immersion blender (or countertop blender), puree the soup to a smooth consistency. Careful with hot liquids! To prevent the soup from spraying, keep the immersion blender on the lowest speed and make sure it is touching the bottom of the pot.
Add shrimp to soup and cook until shrimp turn pink, about 3 minutes. Add salt to taste.
Ladle soup into bowl and garnish with green onion.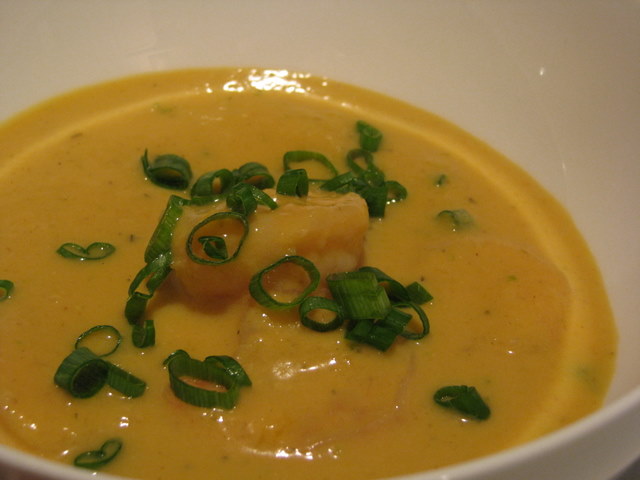 Not sure how to cut up a mango?
No worries. Check out my video on mangoes for a demonstration.