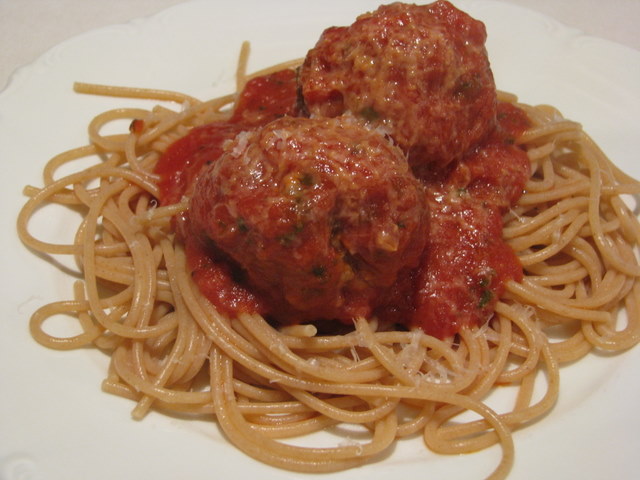 Who doesn't love spaghetti and meatballs? While this traditional Italian dish really does hit the spot sometimes, it can be low in nutrients and high in fat and carbohydrates. To pack more of a nutritional punch, this spaghetti and meatballs recipe includes whole wheat pasta, fiber-rich bulgur and baked meatballs instead of fried. Mama would approve.
Healthy Spaghetti and Meatballs
Adapted from Eating Well
Serves 4-6
Ingredients
1/3 cup bulgur
1/2 cup hot water
1 pound lean ground beef
1/2 pound sweet Italian sausage
1 medium onion, very finely chopped
2 large egg whites, lightly beaten
3 cloves garlic, very finely chopped
1 teaspoon dried oregano
1/2 teaspoon salt
1/2 teaspoon freshly ground pepper
1 cup whole wheat breadcrumbs (I didn't have breadcrumbs on hand so I substituted with whole wheat matzo meal)
Preparation
Preheat oven to 350 degrees.
Line a large baking sheet with aluminum foil. Top baking sheet with a wire rack sprayed with cooking spray. Clean up with be a snap!
Place bulgur in a medium size bowl. Add hot water and let sit for about 30 minutes or until water has been absorbed.
In a large bowl, combine beef, sausage, onion, garlic, oregano, beaten egg whites, salt and pepper, and breadcrumbs (or matzo meal).
Form mixture into medium size meatballs – about 20 meatballs. Place on wire rack and put into the oven for 25 minutes.
In the meantime, cook some whole wheat spaghetti and heat up some marinara sauce in a large saucepan.
Remove meatballs from the oven and add them to the marinara sauce. Let combine for a few minutes and serve with some freshly grated Parmesan-Reggiano cheese.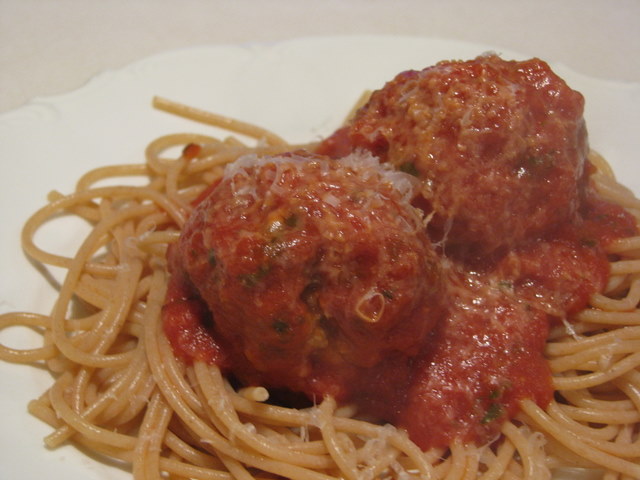 Buon appetito!