***This giveaway is no longer accepting entries**
And the winner chosen at random is… Kate at Diethood.com! Congratulations Kate! Knowing the deliciousness you create on your food blog, I am sure you will create some wonder meals on a stick from this cookbook.
This is just so exciting! Today is our very first book review AND blog giveaway! Yup, there is a bit of chair dancing going on over here. 🙂 For a chance to win see the details at the bottom of the post.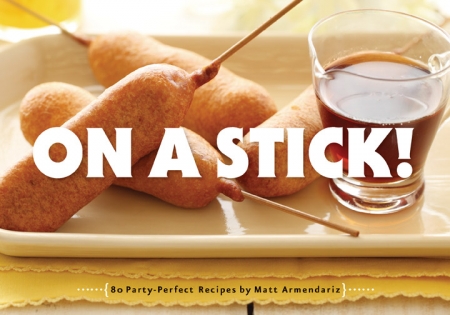 On a Stick! by Matt Armendariz
$16.95 US / $18.95 CAN
Quirk Publishing
184 pages
When you were a kid didn't you just go crazy for corn dogs, s'mores, and popsicles from the neighborhood ice cream truck? There is just something about eating food on a stick that makes it so much fun. So who says the fun has to end when you reach adulthood?
Not Matt Armendariz, gifted photographer and food blogger of MattBites, who has created his very first cookbook entitled "On a Stick!".
"On a Stick!" is a fun, beautifully photographed book of recipes that will appeal to the child in all of us. The cookbook starts with the basics – a whole page dedicated to Sticks & Skewers and then moves on to a visually appealing 6-page spread of Dips & Sauces to accompany a number of the recipes in the rest of the book.
The recipes are then grouped into savory and sweet dishes.
While many of the savory selections are deep fried (Fried Pickles, Fried Mushrooms, Coconut Shrimp, Corn Dogs…), there are still some wonderful street food inspired dishes like Bo La Lot, a Vietnamese dish of ground meat wrapped in betel leaves, Chinese Five-Spice Skewers  made with lemongrass and cumin, and Dak Sanjuk, a Korean dish of cubed chicken, carrots, and scallions in a garlicky marinade.
And then there are the desserts…Caramel Popcorn Balls, Cinammon Rolls with Vanilla Icing dipping sauce, and deep-fried candy bars. Yup, I said deep-fried candy bars. If you are watching those calories, you may just want to jump right to page 146 – Fresh Mango and Chili Powder or page Page 153 – Fruit Salad Skewers. You've been warned.
This cookbook was a real treat to flip through. Matt makes every recipe look mouth-watering good and many of the recipes really brought a smile to my face. How many cookbooks can do that?
Here's a recipe from the book that is perfect for a summertime meal from the grill:
Red Curry Shrimp and Pineapple Skewers
Recipe courtesy of "On a Stick!"
Red Curry Marinade
1 (14-ounce) can coconut milk
1/4 cup Thai basil, chopped
3 tbsp red curry paste
2 tbsp cilantro, chopped
1 shallot, minced
1 garlic clove, minced
Zest and juice of 1 lime
Salt and pepper
1 1/2 lb tiger shrimp, peeled, cleaned, and deveined, with tails intact
1 small pineapple, peeled and cut into 1-inch cubes
2 tbsp extra-virgin olive oil
Salt and pepper
Soak skewers in water about 30 minutes.
Place all marinade ingredients in a bowl and whisk together. Add shrimp and pineapple and toss gently. Cover with plastic wrap and refrigerate 30 minutes.
Thread shrimp and pineapple cubes onto skewers, alternating items, until all pieces are used.
Heat grill or grill pan to medium-high and brush with oil. Grill skewers on each side 4 to 6 minutes, or until shrimp is just cooked through. Season lightly with salt and pepper and serve.
Thanks to the wonderful folks at Quirk Publishing, I have a copy of "On a Stick!" to give away to one lucky reader!
PRIZE DEETS:
PRIZE: "On a Stick!" Cookbook by Matt Armendariz
TO ENTER: Add a comment below about the best thing you ever ate on a stick. Double your chance to win by liking The Flavorful Fork Facebook Page and leaving a comment there too!
GIVEAWAY CLOSES: Tuesday, July 25th at 8pm EST
NUMBER OF WINNERS: One
PRIZE SHIPS: The United States and Canada
PRIZE DRAWING AND ANNOUNCEMENT: The winner will be selected using random.org and announced on Wednesday as an update to this post. Good luck!
The Flavorful Fork was not paid for this review or for hosting this giveaway. We did, however, receive a free copy of the book from Quirk Publishing to pass along to our wonderful readers.