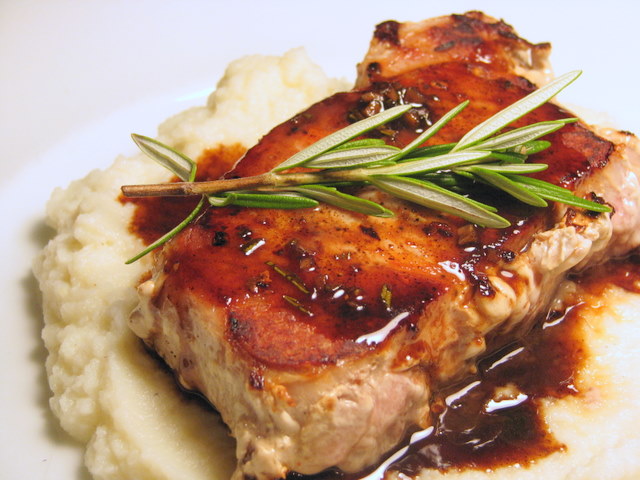 A few weeks ago I had the pleasure to meet with Carla from 7th Heaven Farm in Tabernacle, NJ to observe how she raises pastured animals in an environment that allows them to graze freely and exhibit their natural behaviors. She graciously provided me with some meat from her farm to test out on my family. The boneless pork chops looked wonderful and I just couldn't wait to make them.
To keep this meal light and healthy, the pork chops are served atop some creamy mashed cauliflower, a wonderful way to serve vegetables to finicky eaters. My husband was actually fooled and thought he was eating mashed potatoes.
Spiced Pork Chops with Creamy Mashed Cauliflower
Inspired by Giada De Laurentis' recipe
Serves 2
Ingredients
Pork:
1/8 cup olive oil
2 boneless pork chops
Salt and pepper to taste
1/2 tsp crushed red pepper flakes (or less if you don't like spicy)
Glaze:
1/2 cup balsamic vinegar
1/2 cup honey
2 garlic cloves, minced
3 scallions, finely chopped
1 tsp fresh rosemary, chopped
1/2 stick unsalted butter, room temperature
Cauliflower:
1 head of cauliflower, separated into florets
1 tbs unsalted butter
1 tbs extra virgin olive oil
1/4 cup buttermilk
1 garlic clove, minced
Salt and pepper to taste
Directions
Pork:
Heat olive oil in a large skillet over medium-high heat.
Season pork with salt, pepper and red pepper flakes.
Add pork to the pan and cook for about 4 minutes on each side. Pork chops should be slightly pink inside.
Remove pork and cover while preparing sauce.
Sauce:
Bring vinegar, honey, garlic, scallions, and rosemary to a boil in a small saucepan over medium-high heat, stirring occasionally.
Simmer for about 9 minutes until sauce is slightly reduced.
Remove from heat and whisk in the butter.
Cauliflower:
Bring water to boil in a large pot. Add steamer to pot and place cauliflower florets inside.
Cover pot and steam cauliflower until tender, about 5-6 minutes.
Add cauliflower to food processor with butter, buttermilk, salt and pepper.
While pureeing, drizzle in some olive oil until cauliflower is creamy. You may need to add more or less of the olive and buttermilk to get the consistency you are looking for.
Spoon the cauliflower onto a plate and top with pork chop. Drizzle sauce over top and garnish with a rosemary sprig.
Enjoy!