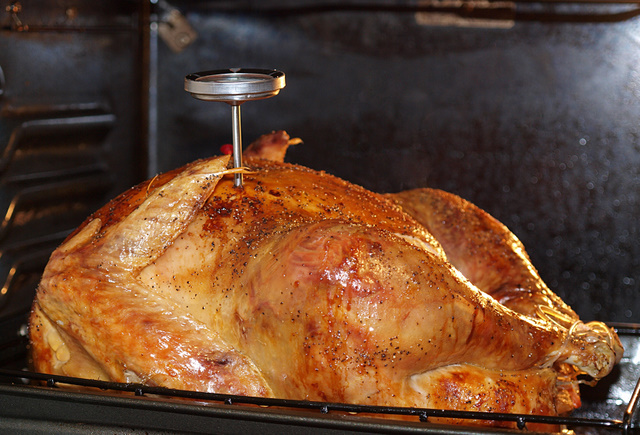 I asked my wonderful online friends last week what was the hardest thing about preparing Thanksgiving dinner. The issue most struggle with? Getting all the food to the table hot and at the same time. With a little forethought and careful planning, you can impress all your guests with your food AND the ability to make it look effortless.
Thanksgiving, or any party you are hosting, can feel overwhelming. There is the menu to consider, the table setting, who should sit next to who, how to keep the kids entertained, and what drinks to serve. Sure, there are a lot of things to coordinate but it doesn't have to be stressful. Careful planning started well in advance of the event will leave you feeling calm, cool and collected.
So, let's focus down on the most important aspect of Thanksgiving day – the food.
Choosing the menu
Selecting what you want to make is a crucial step. Getting this right is really half the battle. If you are like most people, Thanksgiving means turkey – often a very large turkey – which takes up most of the space in your oven. So your side dishes and appetizers need to be items that are either:
no-cook
can be made on top of the stove or in a crockpot
can be made ahead of time and just need to be reheated
only take about 30 minutes to bake in the oven
No-Cook Ideas
Here are a few simple, yet delicious ideas for Thanksgiving that can all be made right on the counter, no cooking required.
Dried Figs with Ricotta, Pistachios and Honey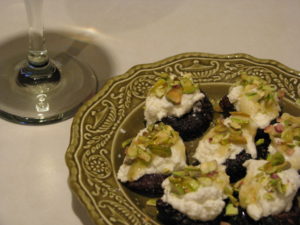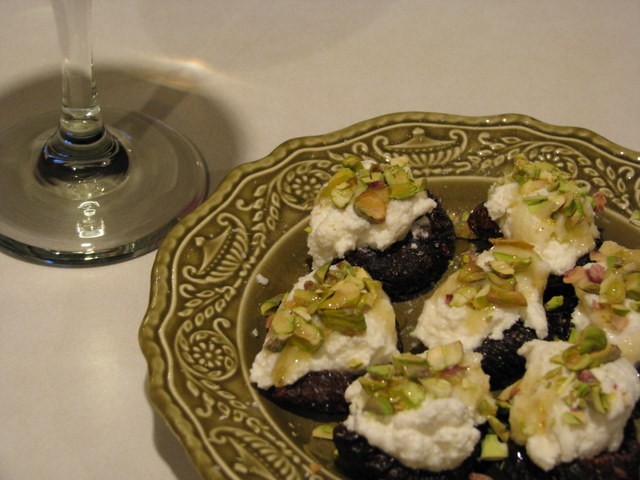 Green  Apple and Belgian Endive Salad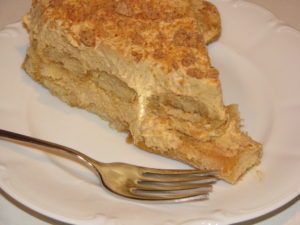 Stovetop and Crockpot Ideas
Rather than roasting those Brussels sprouts, why not make a hash on the stove top instead? Reduce down the number of heavy side dishes like mashed potatoes and yams and include a soup course. Here are a few ideas to get you going.
Creamy Butternut Squash Soup with Sherry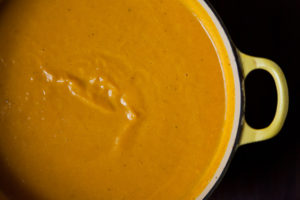 Brussels Sprout Hash with Caramelized Shallots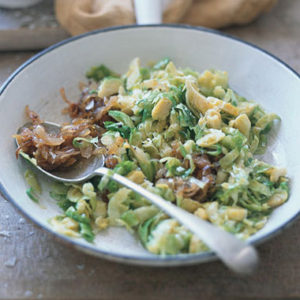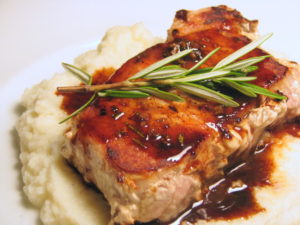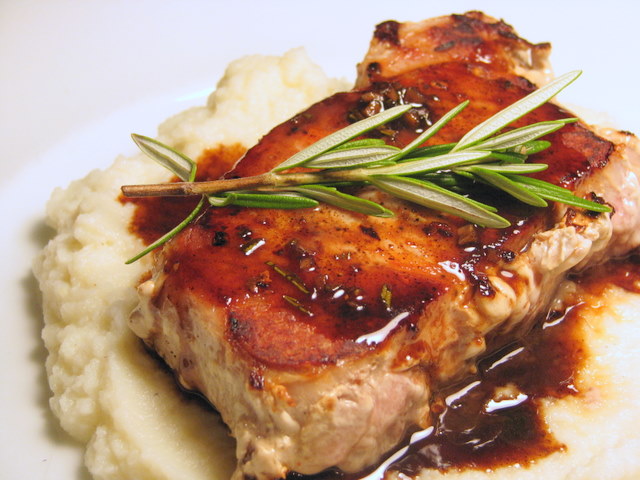 Make Ahead Ideas
Many items on the menu lend themselves to being made a day or so ahead such as rolls, scones, cranberry relish, soups, and desserts. Those recipes that taste best when cooked the day of the event can still be prepped ahead of time giving you some more breathing room on the big day.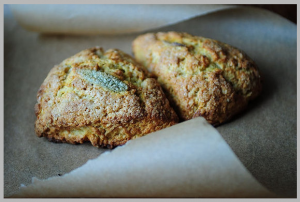 Fresh Cranberry Relish with Grand Marnier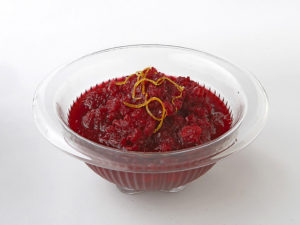 Quick Bake Ideas
When you take your turkey out of the oven to rest before carving, you have a good 30 minutes to get some more things into the oven. Here are a few recipes that will bake in under half an hour and can be brought nice and hot to to the table along with the turkey. This window of time is usually perfect for getting your stuffing done provided you have prepped it the day before.
Ciabatta Stuffing with Chorizo, Sweet Potato and Mushrooms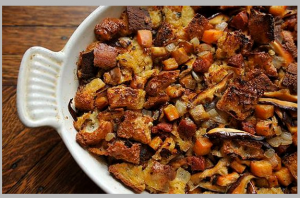 Sweet Potatoes with Sage Butter Topping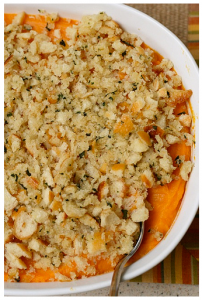 Creating Your Schedule
Now that you have your menu set, it's time to sit down with all your recipes, a piece of paper and a cup of coffee and plan things out.  Determine how long each recipe will take to prep and cook. Determine which items need to go into the oven and at what temperature.
For our Thanksgiving, I like to do a light appetizer and cocktail before the meal – nothing to heavy to weight people down before hand. Also because the meal itself is so filling, I prefer not to have any first courses such as salad or soup (although I am always tempted to make a Butternut Squash or Pumpkin soup which I absolutely love). No, in our family, we dig right into the main course! Often, I do not prepare dessert since, while I love to cook, I am not too fond of baking – especially since I do not yet have a nice high quality mixer. Having to hold a hand mixer for many minutes at a time is not my idea of fun. So when my guests ask if they can bring anything, I take them up on their offer and ask for wine or a dessert. Here is what I am planning to serve on Thanksgiving day:
So based on this menu, my schedule for Thanksgiving will look something like this:
Day before (It's all about the cranberries!):
Prepare cranberry relish
Prep cranberries for Sparkling Pear and Cranberry Cocktail and refrigerate
Steep cranberries for Cranberry Brie Bites
Set table
Thanksgiving Day:
Here's where you really need to get organized! To make sure everything gets into and out of the oven at the appropriate times, I move from the bulleted list above to a more specific, hour by hour approach.
| | |
| --- | --- |
| 10:00 AM | Toast stuffing bread cubes. |
| 10:45 AM | Prep turkey. |
| 11:15 AM | Put (15 lb.) turkey in the oven. |
| 11:30 AM | Prepare stuffing and place in refrigerator. |
| 12:30 AM | Prepare carrot puree and place in refrigerator. |
| 2:30 PM | Put appetizer components together.Prepare Brussels sprouts. |
| 3:00 PM | Guests arrive. Cocktails and appetizers.Take turkey out of oven to rest.Put stuffing in oven.Make gravy and keep warm on stove. |
| 3:30 PM | Carve turkey.Heat carrot puree. |
| 3:45 PM | Take stuffing out of oven and cover.Re-warm Brussels sprouts.Turn on coffee maker. |
| 4:00 PM | Remove carrot puree and Brussels sprouts from oven.Serve Thanksgiving meal! |
| 5:00 PM | Coffee and dessert |
Once you have your menu items chosen, this planning process should take you no more than one hour to put together, but you will be so glad you did!
Here are a few other Thanksgiving articles you might enjoy:
Thanksgiving Fun: Family Scavenger Hunt
Thanksgiving Prep: Time to Clean Out the Refrigerator
Preparing for Thanksgiving: 5 Tips to Ease the Stress
Pumpkin Tiramisu: Don't Mind If I Do!
5 Fun Family Activities for Thanksgiving

Was this helpful? Do you have any other Thanksgiving concerns, questions or suggestions? Please leave your comments below!