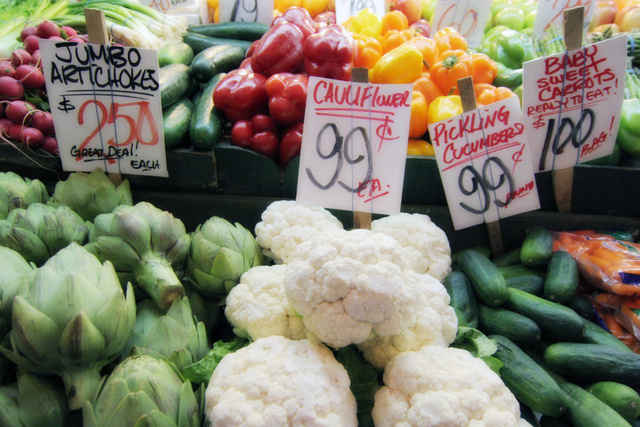 We've all heard the jokes about "Whole Paycheck" when referring to Whole Foods and yet, with the growing awareness of GMOs, pesticides and negative effects of processed foods, there is an increased desire to eat healthy, organic foods. How can we eat the foods we believe are safer for us but not double our grocery bills?
It's a common misconception that eating healthy, organic foods is expensive. Granted, some products will cost more, however, with a few changes in your buying habits you can fill your kitchen with food you can feel good about.
Here are eight ways to eat organic food without breaking the bank…
Look for sales and buy in bulk
Before hitting the store, check out the weekly sales and plan to purchase larger quantities of those items. All large supermarket chains make it very easy to compare prices online and to print out weekly circulars. Meat and seafood can be safely stored in the freezer for a few months, so stock up on your proteins when prices go down.
TIP: When returning home from the grocery store, create a quick marinade for your steaks or seafood in a freezer bag. Place the protein inside, seal up, and freeze. For a quick dinner during the week, grab one of the freezer bags the night before and place it in the refrigerator to thaw. Dinner will be on the table in a flash.
Here's a great example of a deal I found this week. Whole Foods has a special on skirt steak. The cattle were given a vegetarian diet and not given any added hormones or antibiotics. The cost: $7.99 per pound. Shoprite is selling skirt steak for $8.99 per pound.
Use coupons
It used to be the case that coupons for organic products were nowhere to be found. However, with the growing desire to eat organic it is now possible to find coupons for a number of great products.
Here are a few sites where you can find some good deals:
As you can see, two of the links above are for brand sites. If you have specific products you like to buy, check out that company's website. You may be surprised to find that they regularly offer discounts and coupons if you sign up for their newsletters.
Bypass the snack aisle
Buying convenience foods and snack foods in ANY grocery store is not cost-effective. Instead of loading up on chips, cookies, breakfast bars, and ready-made foods stick with whole foods instead. Take a Sunday afternoon to bake a batch of cookies with the kids instead of buying the packaged kind. Make your own soup (which will last for a whole week) rather than purchasing a quart in the prepared foods aisle. Marinate your own meats and make your own crabcakes rather than buying the items already prepped for you. You get the idea.
Need some inspiration? Check out these recipes:
SNACK IDEA: Peanut Butter Power Bites
COOKIE IDEA: Coconut Cranberry Macaroons with a Chocolate Drizzle
SOUP IDEA: White Bean, Sausage and Spinach Soup
Eat more produce
Buying high quality meats and seafood will often cost significantly more, so to trim the food budget why not try switching two meals (or more) per week from meat dishes to vegetarian ones. It will cost less and be healthier for you too! When I shop for clients with the intention of making 5 meat entrees, I might typically spend $130 for 20 meals. However, if I change the menu to all vegetarian meals, the price drops to around $95. A huge savings!
Be selective when purchasing organic produce

While it would be nice to purchase all organic produce, it often is not in the budget to do so. If so, be selective about which produce to buy organic and which produce to purchase from conventional farms. Those fruits and vegetables that are heavily sprayed and have thin skin should be at the top of the list when purchasing organic. Check out a previous post from the Do One Thing series for more information on the Dirty Dozen and Clean Fifteen.
Buy local, seasonal foods
We have become so used to getting any kind of produce at any time of year. However, while it is certainly wonderful to be able to eat strawberries and blueberries whenever the mood strikes, it is not very environmental friendly nor is it always very cost-effective. When possible, plan your meals around the produce that is currently in season. If you have a local farmer's market available, buy your fruits and veggies there. Not only are you supporting local farmers but you are probably also getting a better price.
Buy generic brands
If possible, go generic. Whole Foods has some wonderful products under their generic brand called 365 Value that are very affordably priced. Other supermarkets like Shoprite, Target, and Walmart do as well.
Stick to a shopping list
Temptations abound at the supermarket! Everything is strategically placed to make us want to buy. So come prepared and with a full stomach! Before heading out to the grocery store, create a shopping list based on your weekly meal plan, the coupons you found, and the items that are on sale. Do not add anything to the cart that is not on your list as wonderful as it might look. Adding some cookies from the bakery, some nutrition bars, and some vegetables that looked so fresh and good will add significant dollars to your bill and will most likely lead you to either overeat or waste the food you purchased. Stay strong.
So what are your thoughts? Do you have any tips for making organic food more affordable? Please share in the comments below!