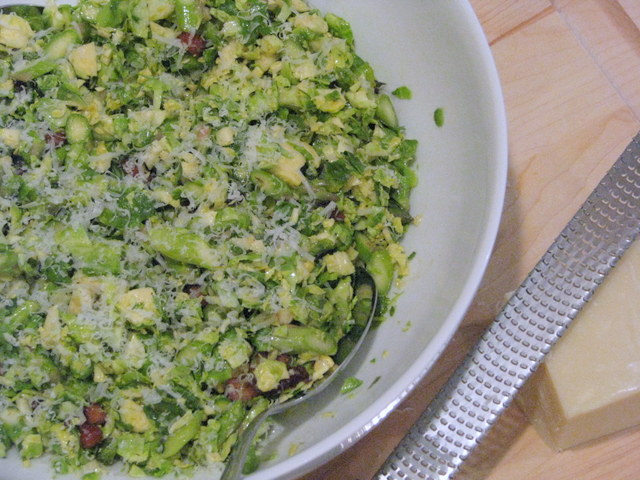 OK, I admit it. I don't always eat a very healthy lunch, if I eat lunch at all. If I am cooking for a client, I just cook my way right through the day never stopping to take time to eat something myself until dinnertime. If I am working from home and there are no leftovers in the fridge, I may not stop to eat until I realize at 3:30 that my stomach is making some pretty crazy sounds. Then I will just grab at whatever is around. So when I put this salad together for lunch today in under 10 minutes, I was just so thrilled. Healthy. Yummy. Fast. My kind of lunch!
I have also been on a mission this month to clear out things that have been lingering in my pantry, refrigerator and freezer. If you don't have a plan for the food you bring into your kitchen, it can often get forgotten about and end up freezer burned, crazy nasty looking or just plan dusty in the back of the pantry. Hard earned money right down the garage disposal.
So this month I threw together some taco pizza with the pizza dough and ground beef in my freezer, some taco salad with the leftover taco meat and salad fixings I forgot I had, zucchini bread oatmeal with the zucchini I bought on a whim, and this super simple, super yummy salad I made with the veggies leftover in my produce drawer and some bacon I was graciously given by Carla at 7th Heaven Farm. (Check out the pork chops I made from her farm as well.)
Shredded Brussels Sprout, Bacon, and Asparagus Salad with Maple Dijon Dressing
Serves 4-6
Ingredients
1 pound Brussels sprouts
1 bunch asparagus
1 cup diced bacon (from thick cuts of bacon, would also taste great with pancetta)
2 tablespoons Dijon mustard
3 tablespoons maple syrup
1 tablespoon cider vinegar
3 tablespoons olive oil
1/4 cup grated Parmesan Reggiano cheese
Heat skillet over medium heat. Add diced bacon to the skillet and cook until nicely browned. Remove from heat.
Cut ends off the Brussels sprouts and place in food processor with the metal blade inserted. If you don't have a food processor, you could manually cut up the Brussels sprouts or use a mandolin. Pulse until the Brussels sprouts are nicely shredded. Add to a large salad bowl.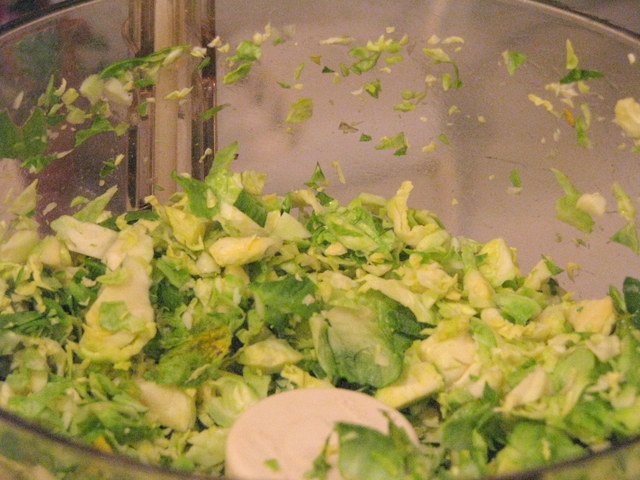 Cut asparagus on the bias into small pieces. Add the asparagus to the Brussels sprouts.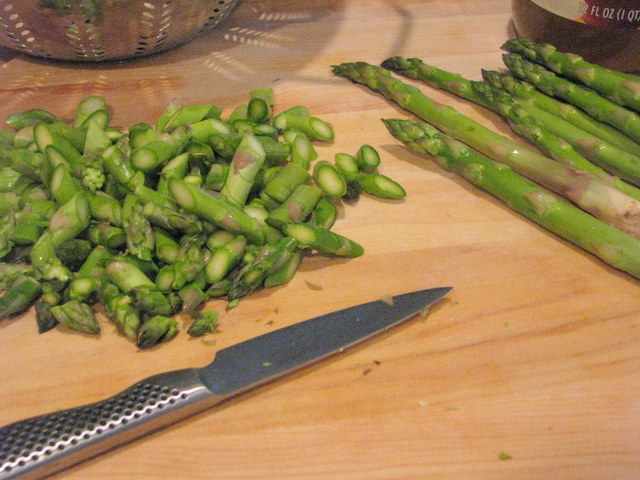 Add the cooled bacon to the salad bowl.
Now time to make a simple maple Dijon dressing.
In a small bowl or measuring cup, add the Dijon mustard, maple syrup, cider vinegar and olive oil. Whisk together. If desired, add some salt and pepper. I didn't think it needed any, but give it a taste and season to your liking.
Pour the dressing over the salad and give it a good toss. Add some freshly grated Parmesan Reggiano cheese to the bowl and give it one final toss.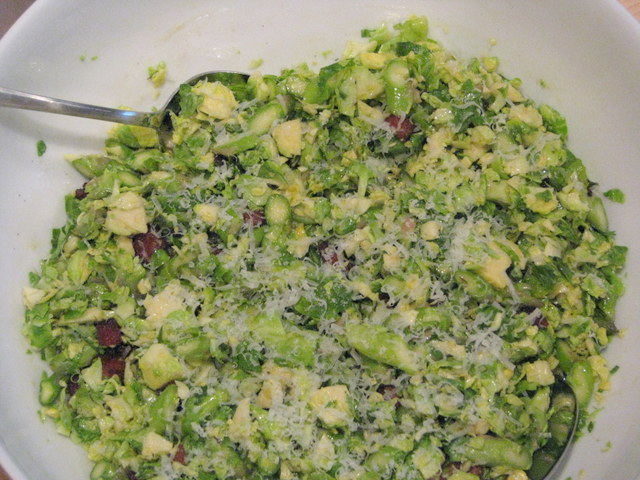 Enjoy!