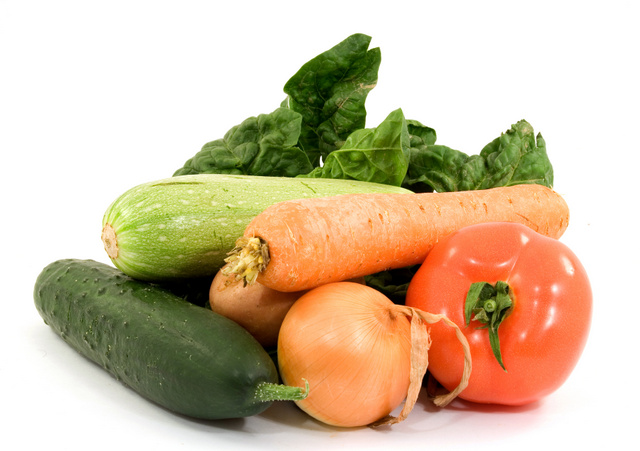 Are you tired of plain old steamed veggies? Do you have a large list of vegetables you don't like to eat? Well then today you are going to love this post! I am confident that you can enjoy eating your vegetables each and every day. By using just a few simple techniques, you can take boring, bland produce to flavorful, fabulous food.
When I first started cooking for my husband, he told me he really didn't like Brussels sprouts and asparagus. "What? Ridiculous!", I said. "You just haven't had them the right way."
I think we all have memories of having to eat those frozen peas or corn or those plain steamed broccoli spears or carrots as a child. I had a slew of well honed techniques for avoiding these items.
Pass them to the dog waiting under the table
Spread them out on the plate so it looked like there were less of them
Hide them under my napkin
Wait out my parents (It was not uncommon for me to still be sitting at the table at 9PM)
Sneak them into the trash
Try to make a deal (one more bite of veggies if I finished my meat)
But then something amazing happened in my early adult life. I tried vegetables that were sweet, that were flavorful, that were absolutely delicious! I actually craved Brussels sprouts and yearned for butternut squash.
So without further adieu, here are 3 simple techniques you can use in your kitchen to create vegetables that you just can't get enough of.
ROAST 'EM
This technique is my all-time favorite. I roast just about any kind of vegetable. It is even a great idea for fruit too! Roasting brings out the sweetness in food. The definition of roasting is to cook something with excessive dry heat with the aid of fat or oil.  All you will need is:
A large baking sheet (preferably with sides)
Some parchment paper
Extra virgin olive oil
Vegetable(s) of choice
Bonus item: fresh or dried herbs
Bonus item: garlic
An oven preheated to 375 – 400 degrees
Here are some of my favorite things to roast:
The time will vary depending on the type of vegetable used so after about 15-20 minutes take a peek and see if the vegetables have softened up and are just starting to brown. This is the time to remove them from the oven.
Puree 'Em
This technique takes a bit more time than the roasting technique but produces a wonderful result. Pureed vegetables make the perfect side dish or the base for a creamy (but not fattening) soup. To make life much easier, I recommend purchasing a hand-held immersion blender so you can whip up those veggies right inside the pot. No need to transfer hot food from the pot to the blender and risk spilling everything all over the counter.
You can either puree vegetables that have been cooked in water (like peas or broccoli) or you can combine the roasting technique with this technique. Here are some of my favorites:
Pea Puree with Mint (cook peas in water, then add butter, fresh mint, salt and pepper, and a little cream)
Roasted Pear and Buttenut Squash Soup (roast butternut squash, tomatoes, pears, and onions with olive oil, salt, pepper and garlic, puree with some chicken or vegetable stock)
Mashed Cauliflower (steam cauliflower, then puree with buttermilk, garlic and salt and pepper)
Saute 'Em
To saute literally means to leap or cause toss. To saute a vegetable, you place it in a pan on the stove over medium to medium high heat with some oil. Some vegetables, like leafy greens, lend themselves very well to this technique. It is also a great way to add a little extra flavor through the use of bacon, pancetta, or garlic.
Place a large non-stick skillet over a medium to medium-high flame. Add some extra virgin olive oil, coconut oil or organic canola oil to the pan, just enough to coat the bottom. If adding some kind of meat to the dish, omit the oil and add before vegetables to get nice and brown.
Some of my favorite things to saute are:
Baby spinach with olive oil and garlic
Asparagus with Leeks and Pancetta (saute diced pancetta, then add a little olive oil if needed and small pieces of asparagus and sliced leeks. Finish off with toasted pine nuts.)
Mushrooms with Fresh Thyme (saute mushrooms in olive oil and garlic and add in fresh thyme towards the end)
 So now it's your turn! What are some of the ways you have tried vegetables that really knocked your socks off? What are your memories of eating veggies as a kid? Have any great stories to share about how you tried to get out of eating your food?