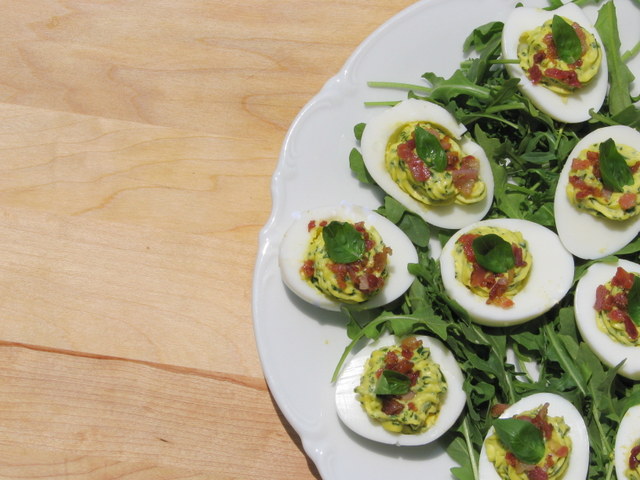 There is nothing like the taste and smell of fresh basil. And summertime is the perfect time to incorporate this amazing herb into as many dishes as possible, especially if you are lucky enough to be able to grow it in your backyard or on your deck.
Basil, a relative of the peppermint plant, not only brings happiness to our senses. It provides protection against unwanted bacteria growth, free radical damage to our cells and inflammation. It is also a good source of vitamin A, beta-carotene and magnesium which promote heart health.
Basil is one of the fresh herbs I like to use most often to add lots of bold flavor to a meal while still keeping it healthy. (Rosemary, sage and thyme are my other favs).
But a girl can only have so much pesto and tomato sauce with fresh basil, right?
Last night as I lay awake in bed the thought of deviled eggs popped into my head. Yeah, I know. Not normal.
I thought how great they would taste with some fresh basil and at that moment Devilish Green Eggs and Ham was born.
Devilish Green Eggs and Ham
Serves 6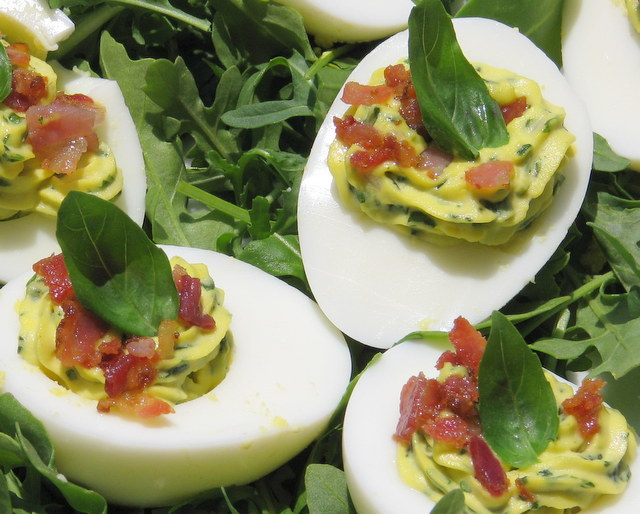 Ingredients
6 eggs
1/4 cup mayonnaise
1 teaspoon Dijon mustard
3/4 teaspoon white wine vinegar
1/2 teaspoon minced garlic
1/2 cup finely chopped basil leaves
3 slices pancetta, diced
Place eggs in a medium saucepan and fill with cold water until eggs are just covered. Put on stove covered over high heat until the water begins to boil. Set a timer for 12 minutes. When eggs are done, drain them and put them in a bowl of cold water for 5 minutes. Once eggs are cooled, gently knock eggs against countertop and then roll gently to release the shells. Peel eggs and set aside.
Cook diced pancetta in a small skillet over medium-low heat until crispy. Drain on paper towel.
Cut eggs in half lengthwise and scoop out the yolks into a mixing bowl. Set egg whites on a serving tray garnished with fresh arugula leaves.
Using an electric mixer combine egg yolks, mayonnaise, mustard, vinegar, garlic and basil until creamy.
Spoon mixture into egg whites or, if you have a pastry bag and tips, spoon the mixture into the pastry bag and pipe into egg whites for a more elegant presentation.
Top eggs with diced pancetta and garnish each egg with a small basil leaf.
TIP: When using a pastry bag, fold the top of the bag over your hand or over a glass before filling. This will keep the messiness to a minimum. Once the mixture has been added to the bag, bring up the edges of the bag and give the bag a good twist to get the contents to move all the way to the bottom of the bag.
TIP: By placing the eggs in cold water and then bringing the water up to a boil, you will prevent the eggs from cracking.