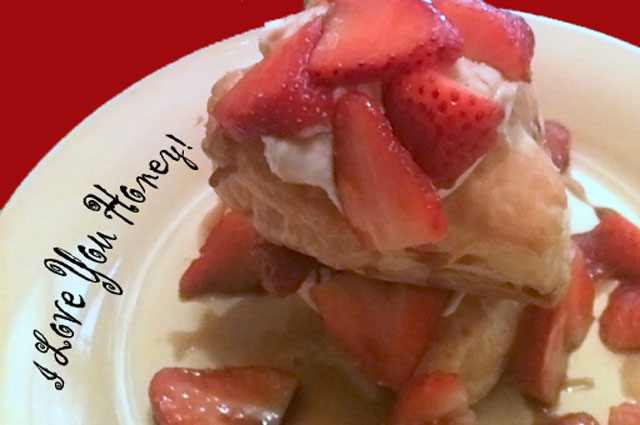 Valentine's Day is nearly upon us. Whether you are sharing the day with one special someone, a group of friends you adore, or treating yourself to a day of indulgence, a delicious (and healthy) dessert is a must!
When it comes to dessert, I have to admit I am not a wonderful baker. During my daily inspiration sessions on Pinterest, I gaze at the beautifully designed cakes, cupcakes and tarts and pin them in the hopes that one day I, too, will produce something so spectacular.
But who I am kidding? I love to cook, but spending hours in the kitchen concocting an elaborate dessert is not nearly as much fun for me as pulling together some fabulous appetizers, soups, and entrees.
So I love to have desserts in my repertoire that are simple to create, taste amazing and have wonderful visual appeal.
And the kind folks at Honey Pacifica (who produce raw honey straight from the bee to you with fabulous flavors like sage, avocado, mango and raspberry) have provided the perfect dessert using pre-made puff pastry dough, strawberries and honey! Thank you to their contributor Kelly Whitten, customer and honey lover, for her inspiration.
Here's Kelly…
*****
Let's face it… For those with someone to share it with, Valentine's Day can be a bowl of cherries. For others, it's the pits. Let's just take the offending fruit right out of the equation and sub in some lovely, sweet, heart-shaped strawberries instead. Strawberries are bursting with vitamins and anthocyanins that keep our bodies buzzing and may help with aging, which makes them essential to preserving our outer and inner beauty long after the day is done. Valentine's Day is often the first real day of indulgence after the conspicuous consumption of the Holidays, and the perfect time to show someone you admire your sweet and saucy side.
The impetus for this impressive, yet easy dessert came from a shade of nail polish I'd recently bought. It reminded me that even the most saintly among us can be a bit of a "tart" from time to time, but always with love in our hearts. This dessert is all fun and yumminess, and when you put it all together on a plate, you'll have them in the palm of your hand.
The best part of this tart (which is really more of a Napoleon) is that you can make most of it ahead of time, and size it to taste. If your lucky recipient has less of a sweet tooth (like my unsuspecting boyfriend, who I used to test my creation!), you can deliver the same effect with one layer, rather than two, and you'll get twice as much love to share. Any kind of honey will do, but I feel a dessert this indulgent benefits from a darker, stronger Avocado honey flavor. Its all up to you, and whatever your heart desires.
Strawberry Tart With a Heart
Serves 6-12
Ingrediants
1 Package Frozen Puff Pastry, Defrosted to Room Temperature
2 8oz Packages Cream Cheese, Softened to Room Temperature
Zest of 2 Lemons
9 Cups Sliced Strawberries
4 Tbsp Balsamic Vinegar
1/2 Cup, Plus 6 Tbsp. Avocado Honey
Whipped Cream (Optional)
Powdered Sugar (Optional)
Preheat oven to 400 degrees
On a cutting board, cut each sheet of puff pastry into 6 equal pieces. Using a cookie cutter or a very sharp knife, cut each puff pastry piece into a heart shape.
Place each puff pastry heart onto a lightly greased cookie sheet and bake for approximately 15 minutes, or until puffy and golden brown. Keep an eye on them so they don't burn!
While hearts are baking, mix cream cheese, 6 Tbsp honey and lemon zest together until well blended. You can use a mixer, but it isn't necessary. Spoon cream cheese mixture into a piping bag with a large tip, or into a plastic zip-top bag with the corner cut off. Set aside.
In a separate bowl, mix the remaining ½ cup of honey and 4 Tbsp balsamic vinegar with a whisk or fork until combined into a syrup. Once ready to serve, toss strawberries with the syrup.
Once hearts are finished baking, allow them to cool for 5-10 minutes, and begin plating. Place 1 puff heart on your serving plate, then pipe with a dollop of about 1 Tbsp of cream cheese mixture in the center. Top with about ¼ cup of the syrup glazed strawberries. Repeat, topping with about ½ cup of the strawberries.
Top with whipped cream and dust with powdered sugar if it makes you happy!
Dig in and share the love…