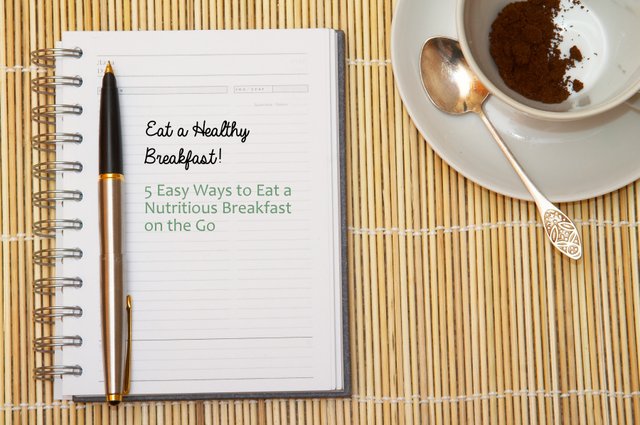 Mornings can be hectic. Whether you are a morning person or not, we try to get so much done between the time we rise and the time we rush out the door. Exercising. Showering. Blow-drying. Meditating (yeah right!). Corralling children. Making lunches. Packing backpacks. Signing permission slips. Feeding the pets. And the one thing we often sacrifice during this mad dash to work is…breakfast.
The Most Important Meal of the Day
Yup, the saying is true. Breakfast is indeed the most important meal of the day. When you wake your body has been without food for at least 7 hours. We literally need to "break the fast" and provide our bodies with the nutrition it needs to jump start itself.
By skipping breakfast or grabbing a coffee as you head to the car, you are depriving yourself of the energy you need to be your best. Research has shown that people who eat breakfast are more likely to have more fiber, calcium and important vitamins and minerals in their diets.
You know what else? People who eat breakfast are more successful at losing weight than those that don't. When you wait until the moment when you are droopy and your stomach is grumbling, you are much more likely to grab whatever is around the office – doughnuts, muffins, candy bars. If you start your day with some fresh fruit, veggies, and proteins those items are much less tempting.
What's Your Excuse?
So I know what you are saying right about now…"I know. I know. Breakfast is good for me but I REALLY don't have time in the morning to make anything. And I am so NOT a morning person."
Or perhaps you are saying…"The thought of eating when I first get up just makes me feel queasy. It's TOO EARLY."
Or maybe…"I really don't like having cereal every morning. So boring!"
Well, I have got you covered.
Here are five simple, delicious and healthy breakfast ideas you can either make the night before or assemble quickly the morning of. These breakfasts will provide you with the nutrients and energy you need to tackle your morning with ease and stay away from those sugary snacks.
Smoothies
I love smoothies. They are a super simple way to get your first serving or two of fruits and veggies – no recipe required. Just add in about 2 cups of your favorite milk (cow's milk, almond milk, coconut milk, or soy milk), some fresh and/or frozen fruits, a bit of spinach or kale, a teaspoon or two of flaxseed to get those omega 3s, and a little maple syrup or honey to sweeten. This will make about 3-4 glasses and can be made the night before.
I like to put my smoothies in mason jars so my husband and I can just grab them on our way out the door.
I always have a bag of mixed fruits in my freezer. And when our bananas are starting to look a little brown or our strawberries are starting to get a little mushy, in they go!
Blender Waffles with Fresh Fruit
Forget those frozen waffles. You can make your own in no time by putting all your ingredients into a blender. Make up the mix the night before and you can have fresh, warm, homemade waffles in minutes the next morning. Top them with fresh fruit and a little maple syrup.
I love this recipe from the Stonyfield Farm Yogurt Cookbook:
1 cup plain yogurt
3 eggs
1/2 cup whole-wheat or all-purpose flour
1/3 cup oat bran
1/8 teaspoon salt
1/4 cup organic canola oil
1/2 cup milk
1 1/2 teaspoon vanilla
1 1/2 teaspoon cinnamon
Fresh blueberries, strawberries or bananas
Tofu or Egg Scramble
Starting your day off with protein will help you feel fuller longer. If you are getting those mid-morning cravings, try adding some protein to your breakfast with a quick tofu or egg scramble. Toss in some diced ham, shredded cheese or a few veggies and top with some salsa.
One of my favorite ways to prepare tofu scramble is to mix it with some pesto and top with some roasted grape tomatoes.
Overnight Oats Parfait
Rolled oats are a great way to start your day. They are full of fiber and anti-oxidants and help in lowering cholesterol. If you are strapped for time, try making your oats the night before by simply combining all the ingredients in a mason jar and storing in the refrigerator. No cooking required. The secret to these simple overnight oats is chia seeds. Those little seeds plump up when added to liquid and help to create a thick and creamy oatmeal.
Just add all the following ingredients to your mason jar and give a shake. Try experimenting with your favorite fruits and flavors.
1/2 cup rolled oats
2/3 cup almond milk
1/2 cup greek yogurt
3 teaspoons chia seeds
4 teaspoons maple syrup
1/2 cup blueberries
Breakfast Burritos
Instead of swinging by the drive-thru to pick up an Egg McMuffin, make your own breakfast burritos instead. These can be made in batches and placed in the freezer. Just grab one out and pop it in the microwave for 2-3 minutes and you are ready to eat. Add in your favorite mix-ins – diced ham, diced peppers, shredded cheese, salsa, browned sausage.
To make, scramble some eggs along with your favorite meat, veggies and cheese. Place some of the egg mixture on a warmed tortilla and wrap. Wrap the burrito in parchment and then in a layer of aluminum foil. Place the burritos in a large freezer bag and label the contents.
To reheat, remove the aluminum foil and microwave on high for 2-3 minutes.
Now it's your turn! What is breakfast like in your house? Any tricks or recipes you can share?