The air is crisper. The leaves are turning beautiful shades of gold, red and orange before they drop to the ground. Fireplaces are being lit. Holiday songs are playing in every store and restaurant. Winter is on its way! No longer do I crave iced tea, mojitos, and magaritas. Now is the time for drinks that warm your belly while curled up on the couch after an intimate dinner party with friends. Now's the time for winter cocktails.
If you are looking to create seasonal classics like mulled wines and ciders, hot toddies, hot chocolates, and egg nog, you are going to love the new book Winter Cocktails by Maria Del Mar Sacasa. It is a wonderful blend of alcoholic and non-alcoholic beverages like Pumpkin-Bourbon Eggnog (I just have to try this!), Earl Grey-Lavender Hot Chocolate, English Christmas Punch, as well as a few classics like Brandy Alexander and Bloody Mary.
Whether you are having an toast with your sweetie or hosting a large holiday gathering, a number of the recipes contain guidance on multiplying the drinks to serve a crowd (i.e., serve it straight from the pot on your stove or place in an ice punch bowl).
Many of the recipes also offer variations on the classic recipe by swapping liquor options or using lower calorie ingredients.
There are also many useful tips scattered throughout like "If you don't have a muddler, use the back of a wooden spoon to smash the ingredients." I'm all for using cooking tools already in my kitchen and not having to run out and buy more specialty items.
The process for making bacon-infused Bourbon may be reason enough to run out and get this book!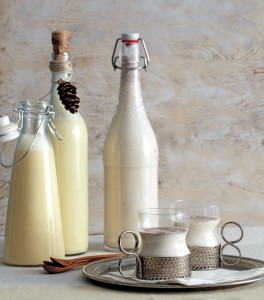 Rompope
(a Mexican milk, egg spice, and liquor punch)
serves 6 to 8
The first rompope, a derivation of Spanish ponche de huevo (egg punch), was brewed by seventeenth-century nuns in the Santa Clara convent in Puebla, Mexico. According to legend, Sister Eduviges requested that the nuns be allowed to drink the rompope they were only permitted to make. Legend also has it that there was one secret ingredient in the recipe that Eduviges took with Rompope is served chilled, often over ice, but it can be served warm, which is how I prefer it when cold weather sets in. Either way, it's rich, velvety, fragrant, and certainly full of cheer.
Ingredients
2⁄3 cup blanched almonds
11⁄2 cups plus 2 tablespoons granulated sugar, divided
6 cups whole milk
2 cinnamon sticks
Rind of 1 lemon*
1 teaspoon pure vanilla extract
1⁄4  teaspoon baking soda
8 large egg yolks
1 cup white rum or aguardiente**
*Remove the lemon rind with a vegetable peeler, being careful to avoid the white pith, which will impart a bitter flavor.
**Aguardiente literally means "burning water" in Spanish. It is a strong (29% or higher) spirit distilled from fruits, grains, and commonly sugarcane. It's available at most liquor stores; for additional sources, see page 156.
Directions
Pulse almonds with 2 tablespoons of the sugar in a food processor until ground to a fine paste.
Bring milk, cinnamon, lemon rind, vanilla, and baking soda to a boil over medium-high heat in a large heavy-bottom saucepan. Reduce heat to medium-low and simmer for 15 to 20 minutes. Set aside.
In a large bowl, whisk egg yolks, the remaining 1 1/2 cups sugar, and ground almonds until thick and pale. Remove cinnamon and lemon rind and discard. Whisking constantly, slowly add the milk to the yolk mixture.
Return mixture to pan and cook over low heat, constantly stirring and scraping the bottom and sides of the pan, until the mixture thickens enough to coat the back of a spoon, 5 to 7 minutes. Set aside to cool completely, about 2 hours.
Stir in rum or aguardiente. Serve.
Make-Ahead  Tip
Rompope may be refrigerated for up to one month in sterilized glass bottles.
As a special holiday treat, Quirk Books is giving away a copy of Winter Cocktails to one lucky winner! Please use the Rafflecopter widget below to enter (if all you see is a link, click on it to view the widget) between December 4th and December 12th. This giveaway is available to residents of the United States only. Happy Holidays!
**UPDATE: THIS GIVEAWAY IS NOW CLOSED. CONGRATULATIONS TO KORTNEY FOR WINNING "WINTER COCKTAILS"! MAY THESE COCKTAILS MAKE YOUR HOLIDAY MERRIER! **