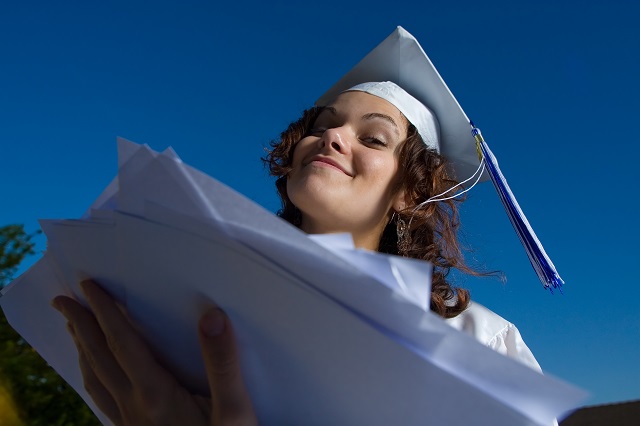 June is the month of transition and big changes for many high school graduates and their families. This June my husband and I join the ranks as our eldest collects her diploma and takes her first steps into adulthood. Treat your graduate to a casual outdoor graduation party with these fun ideas.
There is no better way to celebrate your child's high school graduation than with a summer buffet menu in the backyard surrounded by family and friends. This casual approach to entertaining will ensure that everyone, including the graduate's parents, can relax and enjoy the day.
STEP 1: CREATE A DRINK STATION
Serve lots of cold, refreshing iced tea, lemonade and fruit-flavored water in large pitchers or drink dispensers. Provide fun colored straws, cups, and plenty of ice. In large buckets under the table include wine and beer.
STEP 2: CREATE A DESSERT STATION
Set up a table filled with your graduate's favorite dessert items such as bowls of candy, cupcakes, homemade pies, and cake. To create visual interest, stack a smaller cake plate on top of a larger one for added height and include a vase of flowers or your graduate's high school and college pennants.
STEP 3: CREATE A SNACK STATION
Create a table for snacking including bowls of chips, crudite and dip, and fruit kebabs.
STEP 4: CREATE A SELF-SERVE DINNER STATION
Display large bowls of mixed green salad, potato salad, pasta salad. Create a "make your own" taco bar with hard and soft taco shells, grilled shrimp, pulled pork, diced avocado, sour cream, shredded lettuce, diced tomatoes, diced mango, fresh lime wedges and two types of sauces served in squeeze bottles (chipotle-lime sour cream and BBQ sauce).
STEP 5: CREATE A SIGN-IN AND GIFT TABLE
Make sure all your guests have a place to leave their gifts and advice for the graduate. Provide a table with a instructions for leaving a special message. Include a sign-in book, a large poster board with the graduate's old school pictures, a scrapbook, or notecards with envelopes. Decorate the table with special photos and memories of your child's life.
Do you have someone special graduating this year? What plans do you have to celebrate with them? What one word of advice would you give as they head out into the world?
Here are a few words of wisdom I thought were particularly good:
Advice I Wish Someone Had Given Me After Graduating High School from Lifehacker
Advice for High School Graduates from David Brooks and Gail Collins
How to Find and Do the Work You Love from Scott Dinsmore