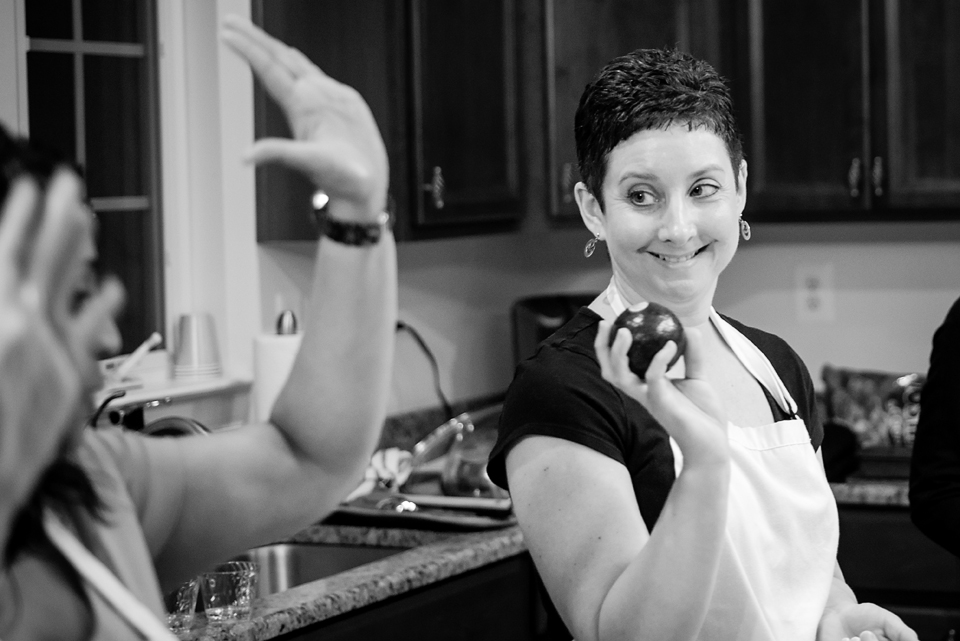 Are you looking for a unique way to celebrate a bachelorette party, birthday, baby shower, anniversary or girls night out?
The Flavorful Fork offers fun, interactive cooking classes right in your home. We get our aprons on, our knives and cutting boards out and get busy in the kitchen. We will have you chopping, learning and having a great time! Party hosts can participate for free so invite your friends to bring their knives, a cutting board and some wine to your house and let's get cooking!
"While looking to surprise my girlfriend for her 50th birthday, the idea of having a private chef that would also involve our group in the meal preparation was the plan. I searched the internet and called several chefs to review my idea. Fran was the most responsive and flexible to what I had in mind. She was very professional in every step of planning and execution of the birthday event. She was very timely in her responses, provided a great menu and was an excellent teacher-even with a group of 15 party goers. She was fully prepared and the kitchen was spotless when the party concluded. I would highly recommend Fran and her Flavorful Fork company for any event."  ~ Gene Hoffman  
Tired of the same old birthday party ideas for your kids?
Why not get them into the kitchen instead? Kids love getting their hands dirty and take great pride in making their own food. The Flavorful Fork cooking parties for kids focus on healthy, delicious foods and lots of hands-on activity. Your kids will have a blast!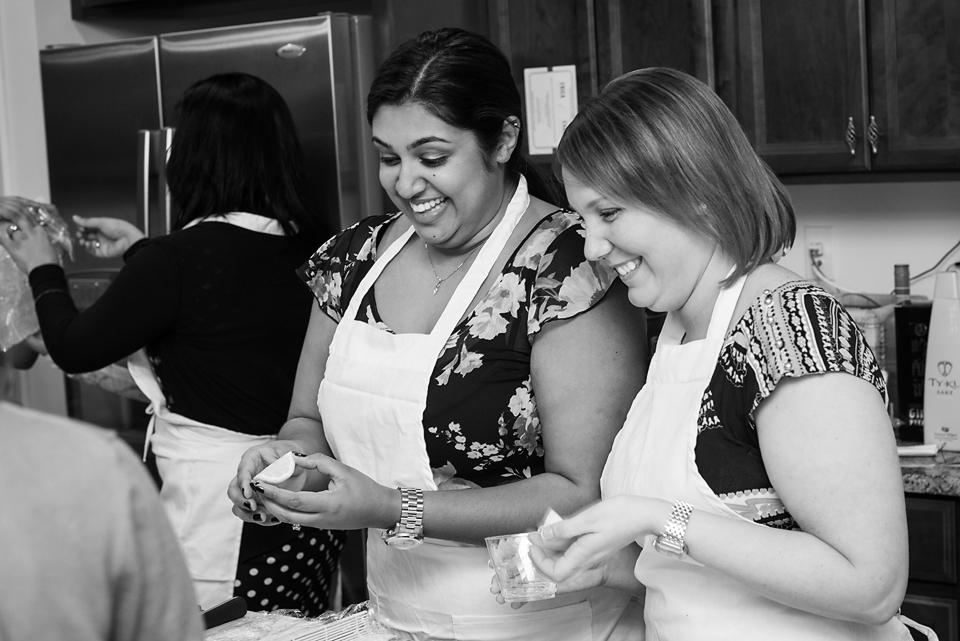 Class Ideas for Adults
YOU MAKI ME CRAZY:  SUSHI 101
Impress your guests by serving a beautiful platter of sushi. This interactive dinner party will teach you how to make sushi maki rolls. Each participant will receive a bamboo rolling mat and will be able to practice making a few different kinds of sushi – nigiri, maki and temaki . Click here for more info.
Cost per person: $75. Minimum party size: 8.
EASY PARTY APPETIZER IDEAS
During this class, we will make three different no-fuss appetizers good for a holiday party or any dinner party: 1) White Bean Rosemary Spread with Crudite and Crackers, 2) Shrimp Ceviche Cocktails and 3) Sugared Cranberry Brie Bites (if in season) or Roasted Grape Crostini with Goat Cheese, Lemon and Thyme  – all while sipping some wine and learning some tips for running a successful party!
Cost per person: $75. Minimum party size: 8.
MASTERING THE 3 MOST IMPORTANT CONDIMENTS
By focusing on the components of three versatile condiments (chimichurri, pesto, and salsa), you will learn how to become more comfortable creating many new meals without relying on a recipe. During class we will make three easy and healthy dishes using these condiments: Avocado Chimichurri Bruschetta, Rosemary Skewered Shrimp with Mint Pesto and Fruit Salsa with Cinnamon Sugar Chips.
Cost per person: $75. Minimum party size: 8.
SOLVING THE DINNER DILEMMA
This informational session would focus on tips and tricks for getting dinner on the table without having to order takeout or pizza. We would cover the essential items that should be in your pantry, how to grocery shop quickly and easily, and how to prep and store food when returning home. We'll also make a few simple, healthy dinner items the whole family will love: 1) Pork Tenderloin with Spiced Cider Marinade, 2) Creamy Mashed Cauliflower and 3) Apple-Spinach Chicken Nuggets.
Cost per person: $75. Minimum party size: 8.
 Class Ideas for Kids
YOUNG CHEFS COOKING PARTY: AGES 5 – 10
Getting kids into the kitchen at an early age increases their love of food and builds their confidence. During this Young Chefs class, we teach fundamental cooking techniques: measuring, grating, chopping, mixing, kitchen safety, and plating to create a complete meal the kids will love and be proud to show off.
Cost per person: $40. Minimum party size: 10.
MOMMA MIA! WE'RE MAKING PIZZA!
Each child will get their own piece of pizza dough to roll out and create their own individual size pizza. During the cooking session, we will talk about different kinds of vegetables, fruits and herbs and why they are important for our bodies. Each child will also get some dough and some stickers and can use their creativity to make an animal, person or anything their minds can dream up. We will bake their creations in the oven along with their pizzas.
Cost per person: $40 Minimum party size: 10.
Customized interactive dinner party ideas can also be created. Contact us for more information.